What These Sikh Style Mavens Can Teach Everyone About Fashion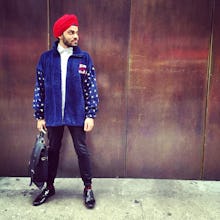 In February, Indian-American jewelry designer and actor Waris Ahluwalia was told he could not board an Aeroméxico flight from Mexico City to New York City because he refused to remove his turban for secondary screening before boarding the plane.
Read more: 13 Striking Portraits That Challenge Society's Views of Sikh Men
According to the New York Times, Ahluwalia argued that the airport's body scanners and metal detectors made this step unnecessary. He was right: The United States Transportation Security Administration guidelines state that travelers can board a plane without having to remove their head wraps. But Ahluwalia was barred from flying on Aeroméxico until he removed his turban.
Two weeks later, in spite of all the media attention brought on by Ahluwalia's story that had shed more light on the Sikh faith, Indo-Canadian comedian Jasmeet Singh endured the exact same reality at a security checkpoint at San Francisco International Airport.
What is clear is how many stereotypes persist about turbans and the men who wear them. But there are easy ways for people to learn — even as injustices like these persist, there's a burgeoning movement surrounding Sikh fashion.
Take the second-largest global clothing retailer H&M, for instance. They were one of the first brands to openly embrace so-called Sikh style, as seen in the company's recent Close the Loop campaign.
And consumers love it, with many lauding H&M's move towards inclusion of diverse models. Pardeep Singh Bahra, one of the models featured in the campaign and the face behind the highly praised menswear blog Singh Street Style, is just one of many around the globe changing the mainstream impressions of Sikh style.
In light of this fascinating intersection between Sikh style and men's fashion, Mic's Bernd Fischer spoke to three Sikh style mavens around the globe to find out more about what it means to be a devoted follower of both Sikhism and fashion.
A fashion accessory, and then some: There are different kinds of turbans worn by followers of different faiths. However, as stated explicitly in the Sikh Rehat Maryada, the Sikh code of conduct that deals with practicalities in the community, it is the only religion that makes wearing a turban — and that it be worn at all times — mandatory for men.
A Sikh turban differs slightly from that of one worn by a Muslim in that the headdress, consisting of one long piece of material, is wound around the head as opposed to being wound around a cap, as many Muslims do. But because there are numerous variations in turban styles for Sikhs, many are still being confused for Muslims. According to the Sikh Coalition, "in America, 99% of the people you see wearing a turban will be Sikh."
Turbans, as well as beards, worn Hby Sikhs are considered articles of faith that represent the Sikh mission of equality and justice, established in the 15th century when the first Sikh gurus sought to bring an end to the caste system in India — so no, airport officials, it's not OK to ask followers of Sikhism to remove their turbans the same way you'd ask an individual to remove a cap.
Sonny Caberwal, dubbed "the world's first Sikh supermodel" by the Telegraph after fronting a global Kenneth Cole campaign, says that the ideology and story behind the turban makes it special. "All Sikhs wear certain things (bracelets, turbans, etc.), but how they wear them is distinct and unique. There's a lot more storytelling to be done there, that's bigger than religion and more about confidence and making a staple product uniquely yours," Caberwal said in an email.
Not quite the same cultural appropriation conversation: Because turbans are an article of religious faith for Sikhs, and not just a fashion accessory, how they're worn is important, as venturing into cultural appropriation is possible, with disrespectful images rife on our Facebook timelines. 
Every season, we see designers and celebrities making the same mistakes over and over again. One of the better-known examples of backlash against a designer for using turbans for strictly fashion purposes was back in 2012, when designer Jean Paul Gaultier used models in Sikh turbans for his spring/summer 2013 collection presentation. Some Sikh bloggers complained that Gaultier's use of non-Sikh (and mostly white) models reduced Sikhism to a mere fashion statement.
But not all Sikhs believe the turban to be their exclusive fashion statement to make.
Param "Popsikhles" Sahib, a designer and freelance stylist based in New Delhi, said that in his opinion, anyone who wants to wear a turban should be able to wear one, as long as there's no intention of disrespecting it and what it represents. "Turbans have been a fashion accessory, so why should anybody be condemned for doing that?" Sahib said in an email.
Jeetinder Sandhu, a menswear fashion and shoe designer who splits his time between New Delhi and London, agrees. "I feel we live in a time that it doesn't really matter if a non-Sikh person wears a turban," Sandhu said in an email. 
But he too added that education is key. "I feel it's important to know the history and respect its values. I don't support fashioning something just because it looks cool or is different and is going to get you noticed," Sandhu said. "And if a non-Sikh man or woman understands the rich history involved with turbans and does not disrespect it, then why should they not wear a turban?"
Go bold or go home: There's one element that many Sikh style influencers agree on: color, and its importance in both Sikhism and fashion. "More courage and more fierceness, and of course, more colors," Sahib said when asked about his wardrobe staples.
"I think there's a growing sense of confidence in being bold – everyone strives to be different and stand out, and I think Sikhism lends itself to standing out," Caberwal said.
"I would like to see more use of Sikh motifs, the strong association with the Earth and its colors, especially blue and the fusion of different cultural styles that one sees in the state of Punjab resulting from centuries of living together among Sikhs, Hindus, Muslims and Christians," Sandhu said. "I feel one can really express their style with colors and prints as it's an alternative [to] hairstyles for us," he said. "So try and sport colors that you are comfortable with or be a bit more daring and wear some printed turbans."
Caberwal's approach is somewhat simpler. "Everyone should have their own sense of style, and have a unique identity," he said. "Get clothes that fit correctly, keep it simple, and be comfortable [with] who you are – nothing more stylish than that!"
Exposure is key: Despite the rise of Sikh men in the fashion and entertainment industries, more needs to be done.
"As a result of my experiences in London and often being mistaken for a Muslim, I decided that the Sikh turban will always be present in my looks and the Sikh and Indian style will always be a strong inspirational point for me when designing for my label," Sandhu said. "I want to raise awareness about Sikhism as a religion and Sikh and Punjabi people as a global community from India because the general public awareness about us is close to nil."
Caberwal, who lives in New York City and is also often mistaken for a Muslim, said that in order for there to be more diversity and exposure, there needs to be a combined effort from the fashion industry and its consumers. "I suspect that there's work to be done on both sides in embracing a unique point of view and really making it shine," Caberwal said, adding that the blog Singh Street Style offers a great perspective and functions as a good example of success from both sides.
What needs to be done: "We are present as a community in almost every part of the world," Sandhu added. "It's our unique style, attitude and history that the fashion industry is still yet to really experience and get acquainted with."
If these trendsetters prove anything it's that the industry and its loyal followers still have plenty to learn. When it comes to Sikh style, the message is clear: Challenge assumptions, embrace diversity, have fun and be brave.