'Empire' Season 2: When Is the Show Coming Back From Winter Hiatus?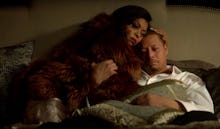 Season two of Fox's hit series, Empire will return with new episodes at 9 p.m. Eastern on March 30. The highly anticipated midseason premiere comes after a four-month winter hiatus that left viewers with a jaw-dropping cliffhanger.
Read more: 5 Things You Didn't Know About Cookie Lyon of 'Empire'
Editor's note: Spoilers abound!
The last time we saw the Lyon family, Lucious (Terrence Howard) had been ousted from his record label after Mimi (Marisa Tomei) pulled a power play with her wife, Camilla (returning guest star Naomi Campbell), and with the help of his son, Hakeem (Bryshere Y. Gray). Lucious also has to contend with his other son, Jamal (Jussie Smollett) after they were both nominated for the same songwriting award.
Elsewhere, Cookie plans a benefit concert at the prison where she spent 17 years in and tries to look for an old cellmate, Jezzy (Da Brat), only to learn that she had been given a life sentence. Finally, Andre's (Trai Byers) very pregnant wife, Rhonda (Kaitlin Doubleday), gets pushed down the stairs by an unknown assailant. 
The premiere will pick up right after the shocking winter finale with an episode titled "Death Will Have His Day" – expect more twists and OMG moments.
Outside of the show, the cast of Empire has kept busy, particularly the women. Gabourey Sidibe, Grace Gealey, Serayah and Kaitlin Doubleday all recently participated in a CoverGirl shoot; they were promoting a limited edition lipstick, a collaboration between CoverGirl and Empire that will be featured throughout the remainder of season two.
Though Henson wasn't part of the CoverGirl shoot, she was under another set of bright lights, having won the Golden Globe in January for best leading actress in a drama series.
Watch the teaser for the midseason premiere of Empire below: