Peter Liang Shouldn't Serve Time for Akai Gurley Shooting, Says Brooklyn DA Ken Thompson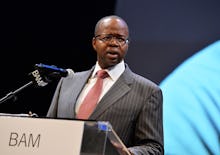 In February, New York City Police Officer Peter Liang was convicted of second-degree manslaughter for the fatal shooting of an unarmed black man, Akai Gurley. The verdict came after 17 hours of deliberation and warrants a prison term of up to 15 years, but according to local television station WPIX, Brooklyn District Attorney Ken Thompson doesn't think Liang should serve any of that time. 
Read more: How Trayvon Martin's Shooting Death Sparked a New Wave of Activism 
"Peter Liang was indicted, prosecuted and subsequently convicted by a jury because his reckless actions caused an innocent man to lose his life," Thompson said, explaining that, despite the fatal repercussions of said "reckless actions," there's no reason to believe that Liang "intended to kill or injure Akai Gurley." Thompson doesn't see Liang as a threat to public safety. 
Liang was a rookie police officer when he shot Gurley, patrolling a dark stairwell in a Brooklyn housing project. Liang had his gun drawn and fired on accident, he said; the bullet ricocheted and hit Gurley. Liang didn't try to perform CPR or revive the victim, which, according to WPIX, Thompson chalks up to the officer having been green. At the April 14 sentencing, Thompson plans to ask for five years' probation with house arrest and 500 hours of community service, rather than jail time, WPIX reported.