Strawberry Shortcake Oreos Are Now a Real Thing — Here's How to Get Them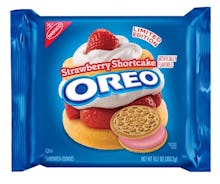 The flavor geniuses at Nabisco are back with yet another variation of the classic sandwich cookie. Delish reported Tuesday that the limited edition, strawberry shortcake-flavored Oreos will hit shelves in time for spring.
Rumors of the new Oreo flavor circulated after social media users began sharing photos of packages of strawberry shortcake Oreos earlier this week. Apparently the hype was well-deserved. Delish reports that the strawberry shortcake Orero features "a vanilla sponge-cake–like cookie and strawberry cream filling." Mmmm.
Sadly, the flavor won't be available everywhere. The strawberry shortcake Oreo is exclusive to Walmart. According to Consumerist, they'll be at Walmart nationwide by April 4, though the limited edition flavor has already appeared in some stores.
Get them while you can though, because an Oreo representative told Delish that the seasonal flavor will only be available "while supplies last."