Climate Change Is Bad News for Polar Bears, Manhattan, All of Humanity — and Now Winos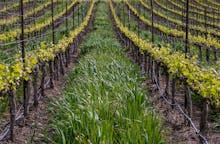 Melting ice caps, rising tides, natural disasters — thinking about the effects of climate change can be anxiety-inducing enough to make you want to reach for a glass of wine. But toss one back while you can, because new research shows that climate change is coming for your Pinot Noir, too.
According to the Earth Institute at Columbia University, a recent study in the journal Nature Climate Change suggests that while wine producers may have first rejoiced at the positive effects of a warmer climate, in the long run, it spells trouble.
Read more: Climate Change's Effects on Food Production Are More Deadly Than We Thought
Droughts and warm weather dry out the soil, which mean vineyards can harvest their grapes earlier in the season. And, according to the Earth Institute, an early harvest can mean some tasty wine.
"Now, it's become so warm thanks to climate change, grape growers don't need drought to get these very warm temperatures," the study's lead author Benjamin Cook told the Institute.
But, if global warming trends continue at the same rate, temperatures will eventually push Pinot Noir vineyards out of Burgundy, as well as Cabernet and Merlot vineyards out of Bordeaux. And that's just the start. In a few decades, it's possible other of the world's most famous wine regions— think Napa Valley in the U.S. and locations in Spain, Chile, Italy and France — will have to relocate. 
This news will be especially devastating for millennials, who drank 42% of all wine consumed in the U.S. in 2015, and, who still may be trying to cope with climate change's threat to their favorite beer as well. 
Wine won't be going away entirely, but the study's co-author Elizabeth Wolkovich said it may mean accepting some change.
"If people are willing to drink Italian varieties grown in France and Pinot Noir from Germany, maybe we can adapt," Wolkovich said.
And if you're willing to adapt your palate to some bootlegged moonshine, even better. 
h/t Huffington Post