Hillary Clinton May Be Beating Bernie Sanders, But Democrats Want the Race to Go On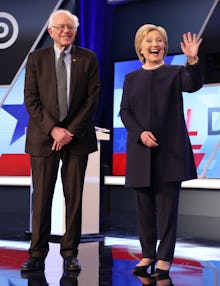 As Hillary Clinton has built a formidable delegate lead in the race for the Democratic presidential nomination, Democrats from President Barack Obama on down have suggested that the time may be approaching for challenger Bernie Sanders to step aside and allow the party to unite behind Clinton.
Democratic voters have a response: Not so fast.
Read more: Bernie Sanders Brushes Off Obama's Reported Suggestion That He Drop Out
The latest polling and nominating contest results underscore voters' hunger for the spirited debate between Clinton and Sanders to continue — and point to the deep resonance of Sanders' message of economic egalitarianism and political "revolution."
Landslide wins: Take Tuesday's races. While Sanders went down to a disappointing defeat in Arizona — dashing his hopes of beginning a weeks-long winning streak — the Vermont senator racked up huge wins in the Idaho and Utah caucuses.
In Idaho, Sanders bested Clinton 78% to 21%, nearly matching then-Sen. Obama's 80% to 17% margin over Clinton eight years ago. And he far outpaced Obama in the Beehive State, crushing Clinton 79% to 20%, compared to Obama's 57% to 39% win in 2008.
Sanders' landslide margins were enough to cancel out Clinton's 18-point win in Arizona. Per the RealClearPolitics delegate count, Sanders won a total of 73 delegates in the three states, compared to Clinton's 55.
But Clinton is still comfortably ahead of Sanders in the overall delegate count, leading him 1186 to 899 in pledged delegates and dominating 1690 to 946 when superdelegates are included. Securing the nomination requires a total of 2,382 delegates.
Polls, polls, polls: But Clinton's delegate lead isn't translating into a bandwagon effect — not yet, anyway.
A Bloomberg poll released Thursday morning showed Sanders edging Clinton nationally, with 49% support to the former secretary of state's 48%. It's only the second poll ever to show Sanders with a national lead, and it comes on the heels of a CBS News/New York Times poll showing Clinton just barely ahead of Sanders nationally, 50% to 45%.
The RealClearPolitics average of recent national polls gives Clinton a 51.5% to 42.5% lead over Sanders — among the closest margins in the race to date.
Of course, parties don't nominate candidates in national primaries. (That's not to say national polls are useless: They provide a helpful gauge of overall sentiment within the party, and it's not inconceivable that if the national mood shifts, they could help sway a few superdelegates.) But Sanders' persistent strength among key Democratic constituencies — particularly fervent progressives and young voters — may well lead to new surprises in state nominating contests.
A brand-new PPIC survey of California — where voters head to the polls on June 7, the last major day of nominating contests before the convention — is a case study. Clinton leads Sanders in the state, but not by much: She takes 48% of the vote to his 41%.
Sanders' strongest support in the poll comes from "very liberal" voters, with whom he leads 57% to 41%; men, who back him 48% to 39%; and those between the ages of 18 and 44, who favor Sanders 63% to 22%.
Actually defeating Clinton requires more than coming close or just barely beating her in large, delegate-rich states; Sanders needs to notch resounding victories. So far, Sanders has yet to accomplish that, complicating what was always going to be a tough path to the nomination. But there remains a vibrant and growing constituency in the Democratic Party for the ideas he espouses — which goes a long way toward explaining why he's in this for the long haul.