Rudy Giuliani Says Hillary Clinton Is a "Founding Member" of ISIS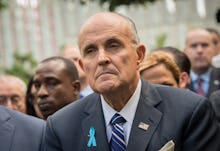 Hillary Clinton could be seen as "founding member" of ISIS, Rudy Giuliani said in an interview on Fox News Wednesday night.
"She helped create ISIS! Hillary Clinton could be considered a founding member of ISIS," the former New York mayor said on The O'Reilly Factor during a discussion of the Obama administration and terrorism.
Asked why, Republican Giuliani said Clinton, the Democratic presidential frontrunner, had contributed to the creation of the terror network "by being part of an administration that withdrew from Iraq. By being part of an administration that let [former Prime Minister Nouri al-Maliki] run Iraq into the ground ... By not intervening in Syria at the proper time. By being part of an administration that drew 12 lines in the sand and made a joke out of it."
Giuliani's comments came after Clinton delivered a speech on terrorism on Wednesday in which she framed herself as better equipped to handle the problem as president than Republican rivals. Clinton said GOP contenders Donald Trump and Ted Cruz would respectively isolate the United States from its allies and pursue policies that would foment Islamophobia.
To be fair, O'Reilly opined that Clinton, as secretary of state, could not have forced President Barack Obama to take a different path. Her only choice, O'Reilly suggested to Giuliani, who was in office at the time of the 9/11 terror attacks, would have been to resign.
"Which is what a patriot does," Giuliani shot back.
Clinton and Giuliani have a history: The former mayor ran against Clinton to represent New York in the Senate in 2000 before dropping out of the race after a cancer diagnosis.
The two circled each other again when both ran failed campaigns for their parties' presidential nominations in 2008.