Nick Jonas New Album 'Last Year Was Complicated': Release Date, Track List and More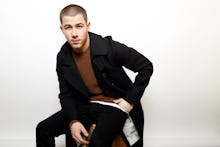 Nick Jonas had a lot on his mind Thursday. The singer took to Twitter to spill some beans to his fans (while political candidates were threatening to do just the same thing), apparently revealing the album title and each track name to his forthcoming album, Last Year Was Complicated. He also announced the album would be released on June 10, but that's not all. 
Last Year Was Complicated will be the former boyband member's third solo studio album, following his self-titled success in 2014, Nick Jonas. Surprisingly, Jonas did in fact have a debut album before he and his brothers entered the world stage, and that album was self-titled too: Nicholas Jonas was released in 2005, featuring an array of contemporary Christian pop music. 
With song titles like "Champagne Problems" and "Bacon," it doesn't seem likely Jonas is returning to his '05 roots. What's more likely is Jonas' further departure from the once-good boy who donned a celibacy ring and performed international tours with his two older brothers.
Read more: Nick Jonas in 'Goat' Sundance Film Shows the Dark Side of Pledging Fraternities
"I've been making this record for a year and a half... pouring everything I have into it," Jonas tweeted Thursday. "When I first started making I thought I knew what it would be about... then I had a breakup." The artist continued to reveal why last year might have been so complicated: He apparently decided to try digging deeper, maybe to build a more profound sound rather than relying on pop's easy routine of creating club anthems and Top 40 hits.
Ironically, though, Jonas also seemingly recruited some of the biggest names in music to make his latest masterpiece, including Tove Lo, Big Sean, Ty Dolla Sign and Allen Iverson, according to his storm of tweets. 
Below are each of the track titles Jonas tweeted:
1. "Voodoo"
2. "Champagne Problems"
3. "Close"
4. "Chainsaw"
5. "Touch"
6. "Bacon"
7. "Good Girls"
8. "The Difference"
9. "Don't Make Me Choose"
10. "Under You"
11. "Unhinged"
12. "Comfortable"
According to Jonas, the first single off Last Year Was Complicated will drop on Friday.
March 24, 2016, 8:35 a.m. Eastern: This story has been updated.