Professors' Group Warns Against Using Anti-Sexual Harassment Policies to Police Speech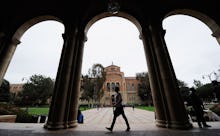 In 2013, Patty Adler, a tenured sociology professor at the University of Colorado-Boulder, was pulled out of class and nearly forced into retirement for making her students uncomfortable.  
For decades, she had been teaching a popular class called "Deviance in U.S. Society." The class, which usually enrolled around 500 students every semester, usually included a role-playing exercise at the end of the course which involved having undergraduate teaching assistants dress up as sex workers to bring to life course material related to the global sex trade.
But in 2013, after reports from some students that the exercises constituted sexual harassment, she was pulled from class by university administrators and given the option of a buyout for early retirement or a return to the classroom without being allowed to continue teaching her course on deviance. After protests on campus, the university eventually walked back its actions, but a semester later, Adler retired anyway, demoralized by the contentious affair. 
Read more: Here's How Some Colleges Reacted to Yik Yak, the App That's Fueled Racial Controversies
That story is just one of many examples in a report released Thursday by the American Association of University Professors that warns that growing efforts over the last half decade to thwart sexual harassment and sexual assault on college campuses are increasingly sliding into a dangerous form of administrative overreach. Their concern is that poor execution of a well-intentioned law designed to protect women and guarantee their equality is having the effect of policing sex-related language and curricula in academia and at times poses a significant threat to free speech.
The matter at hand is the use of Title IX, a federal law that was passed in 1972 to help provide women with equal opportunity in higher education. It prohibits "discrimination on the basis of sex in any federally funded education program or activity," and mandates equality in everything from access to athletics. But today, you're most likely to hear about Title IX being used as the basis for measures against sexual harassment cases.
Universities' ambition to comply with Title IX has grown into a complicated challenge in recent years. The federal government has emphasized managing sexual harassment and assault with increasing intensity, and the emergence of the student-activist-driven idea of permitting marginalized students to have "safe spaces" on campuses is making defining hostility on campus ever more challenging. Stories of professors terrified of the possibility of offending their students and facing administrative censure for it seem to be more and more frequent.
The report recognizes that Title IX is an important law, but argues that it's one that should be applied carefully. Combating sexual harassment is important, but if the goal is pursued without precision, it could make campus less safe for the free exchange of ideas.