Donald Trump Just Took His Wife Feud With Ted Cruz to a Horrifying New Low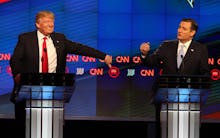 And just when we thought the fight for the Republican presidential nomination couldn't get anymore farcical, Donald Trump gives us... more Trump. 
The feud between the presumptive GOP nominee and runner-up Ted Cruz hit below the belt after the candidates' wives got dragged into the mix. Continuing the back-and-forth, Trump posted a tweet on Wednesday with a rather... overt subtext.
First ladies-in-waiting Heidi Cruz and Melania Trump were caught in the mudslinging after an anti-Trump super PAC created a meme with an image of a nude Melania Trump from a British GQ shoot in 2000 and captioning it, "Meet Melania Trump. Your next first lady. Or, you could vote for Ted Cruz on Tuesday."
Trump, assuming the image was the work of the Cruz camp, shot back with a tweet threatening to "spill the beans" on Heidi Cruz.
Then, Wednesday on CNN, Cruz responded to Trump's indignation. "If Donald wants to get in a character fight," Cruz said, "he's better off sticking with me, because Heidi is way out of his league."
That night, The Donald, at his Trumpian finest, tweeted out that side-by-side image of the two women.
"The images," the caption on the photo read, "are worth a thousand words."
Cruz swiftly came back via the high road — or the highest road possible, given the circumstances — saying "real men" don't stoop to such levels, and calling Trump's wife "lovely."
But in a campaign in which Trump's outrageous tirades aimed every which way have done him more good than bad, it's possible the high road is no longer the safest bet.
Read more: Ted Cruz Just Defended Wife Heidi With a Line From 'The American President'
Get the five stories that will challenge you to rethink the world by signing up for MicCheck Daily.
March 24, 2016, 10:09 a.m. Eastern: This story has been updated.
Correction: March 24, 2016