This Badass CrossFitter Has No Legs or Arms, Is a Fitness Inspiration to Us All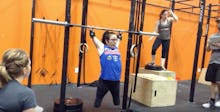 On March 9, a video on the CrossFit Facebook page went viral, with users commenting, "Just another reason why CrossFit is amazing!" and "This is what CrossFit is all about." In the video, a Canadian woman named Lindsay Hilton is lifting weights, doing burpees and pull-ups — and she was born without arms or legs, the Washington Post reported. 
The video was made by a friend for Hilton so that she could critique her moves and improve, but then it was uploaded by CrossFit with the caption, "One of our awesome adaptive athletes crushing 16.1!" (The 16.1 refers to a workout routine.) CrossFit prides on being "scalable and adaptable" to those with limited mobility.
CrossFit is a vigorous fitness routine that describes itself as "constantly varied functional movements performed at relatively high intensity," according to its website. Its workouts are a mix of sports like "gymnastics, weightlifting, running, rowing and more."
Hilton stumbled across a CrossFit booth six months ago. But she's been a badass athlete all her life, having played soccer, rugby and field hockey while in school. "People have called me inspirational throughout my entire life," Hilton said to the Washington Post. "I just think, you know, I'm kind of doing everyday activities. Because I've been the same way my whole life, I don't see myself as different than anybody else."
"There is no blueprint," Hilton said of her own CrossFit endeavors. She added that "everything I have accomplished with CrossFit has been trial and error." Although there are moves that she just can't do, she still tries her best at finding a way to make it work for her body. 
Hilton employs the help of Velcro wrist wraps to help with deadlifts and pull-ups, the Washington Post reported. For power cleans, she uses kettle bells. 
Read more: 7 Things People With Disabilities Are Tired of Hearing