Gigi Hadid Claps Back at Troll Who Says She "Has a New BF Every 2 Weeks"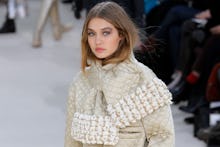 Gigi Hadid does not need your judgment, thankyouverymuch. But that won't stop the internet's trolls from offering their unsolicited opinions of the 20-year-old supermodel. As the International Business Times reported, after Hadid shared a picture of her boyfriend Zayn Malik, one such Twitter troll blasted her for dating too many guys.
Read more: Gigi Hadid Tears Up in Touching Speech About Mother's Lyme Disease Diagnosis
"@GigiHadid practise how to walk properly instead of having a new bf every 2 weeks," @modelior tweeted, according to IB Times — the post has since been deleted. 
The model was having none of it, though, and shut down the troll with a tweet of her own.
"I've dated 3 guys in 3 years, hun," she replied. "My walk can always get better; I hope the unrelated bitterness in ur heart can too."
The IB Times reported that Hadid has dated three men seriously: singer Cody Simpson, Joe Jonas and Malik, formerly of the boyband One Direction and now a solo artist with an album slated to drop Friday. The pair appear together in the video for Malik's recently released single, "Pillow Talk."
Three men in three years isn't a particularly high rate of relationship turnover, but even if it were, that's nobody's business but Hadid's. And as for her walk, it was good enough to land her spots in Fall 2016 Fashion Week shows worldwide. The model walked Versace's Milan runway, for Chanel and Miu Miu in Paris and Rihanna's Fenty x Puma show in New York — and that's just a short list. Whatever her haters may say, Hadid is doing just fine.