Australian DJ Tigerlily Responded to Her Nude Snapchat Leak By Donating $5,000 to Charity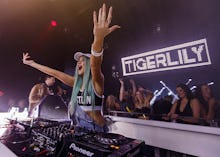 In a story that's sadly all too familiar for female celebrities, a nude image of Australian DJ Tigerlily was leaked on the internet this week without her consent.
According to Tigerlily, the video was posted on Snapchat a few weeks ago, and shows her playfully flashing the camera. In the original, heavily edited snap, her genitals were covered with squigglies and emojis. Yet Tigerlily later discovered that someone had removed the emojis, saved the photo and shared it online. 
"You can see everything," Tigerlily told BuzzFeed. "I was shocked. I didn't know that was possible."
On Wednesday, she addressed the leak on her Facebook page.
"The content that has been ripped from Snapchat, edited and distributed is being done so against my will," she wrote to her followers. She then quoted Jennifer Lawrence, another celebrity hacking victim, who told Vanity Fair last year that the leaking of nudes "is not a scandal. It is a sex crime. It is a sexual violation. It's disgusting."
Tigerlily's note had a body-positive message for her fans, as well.
"Although the crime that has been committed is NOT OK, being proud of your body and who you are IS OK," she wrote. "Girls — Do not ever be ashamed of your body. Do not ever let anyone else ever treat you with anything but absolute respect. You and your body are completely perfect just the way you are and you all deserve to know that and be told that each and every day."
In addition to her Facebook response, the DJ has also donated $5,000 to headspace, an Australian mental health foundation, and created a donation page for others who wish to add to the sum.
"In light of recent events, I have decided to set up a fundraising account for Headspace in order to support victims of bullying — both online and offline, all over Australia," she wrote in the page's description. "I've spoken out many times against misogyny, sexism and online bullying, and feel so strongly that as young people we should empower and support one another, rather than tearing each other down."
Tigerlily's story will likely resonate with many of her fans, especially those who have also had their own nude or sexually explicit images shared online without their consent. According to a 2014 American Psychological Association survey, approximately 10% of adults have had ex-partners threaten to post nude or sexually explicit photos of them online, and approximately 60% of those exes have followed through on such threats. 
The nonconsensual leaking of such photos or videos, which is often referred to as revenge porn, is common enough that some states have passed laws prohibiting it. But these laws can often be difficult to actually enforce, in part due to victims' reluctance to report such crimes to the police.
Tigerlily credited the support of friends and fans with helping her move past the leak and turn it into a positive experience.
"I feel empowered by the strength and positivity of the beautiful people I have in my life," she wrote in her Facebook note. "To my friends, fans and those choosing not to partake in the invasion of my privacy, I thank you."
h/t BuzzFeed