ISIS Uses Donald Trump's Image in New Propaganda Video Celebrating Brussels Terror Attacks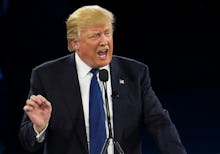 It's not the first time Donald Trump has featured in an ISIS-affiliated propaganda video, and if he keeps up the Islamophobic rhetoric, it probably won't be the last.
As Newsweek reported, the al-Battar Media Foundation released a nine-minute video Thursday that pats the Islamic State group, also known as ISIS, on the back for its perpetration of Tuesday's terror attacks in Brussels. It also features a guest spot by the Republican frontrunner in the 2016 presidential election.
Read more: Anonymous Threatens ISIS Again Following Brussels Terror Attacks
In this latest ISIS video, entitled "Brussels Attack," Trump's image features alongside shots of Brussels in shambles, all of it edited to look like it's going up in flames, Newsweek reported.
"Brussels was one of the great, one of the most beautiful cities in the world, 20 years ago," a Trump voiceover reportedly says in the video. "It was amazing, actually, and safe. Now, it's an absolute horror show."
Those were his remarks to Fox and Friends after news broke of the attack. In the same interview, he reiterated his intention to close up the United States' borders, if elected president. Trump had previously referred to Brussels as a "hellhole" due to the presence of so many Muslims within its borders, people he alleged had failed to assimilate.
"The crusade jets including the Belgian [sic] are still bombing the Muslims in Iraq and Levant in the day and the night, killing children, women, old, and destroying mosques and schools," a voiceover in Arabic reportedly says in the video, according to Newsweek.
The bombings in the Belgian capital's Zaventem airport and Maalbeek Metro stop left at least 34 dead and 230 injured. Two brothers who carried out the attacks are believed to have died in the process, along with another man, while two suspects are still on the run and the target of a massive manhunt. The Islamic State group claimed responsibility for the attacks on Tuesday, encouraging its social media followers to celebrate on their personal accounts. According to Newsweek, they're celebrating again with Thursday's video.