Tolkien Reading Day 2016: Here's the Story Behind the Day Every 'LOTR' Fan Can Appreciate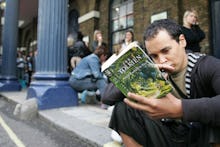 Calling all hobbits, humans and elves — this year's Tolkien Reading Day is almost upon us. The annual celebration of fantasy author J.R.R. Tolkien (a.k.a. the man behind The Lord of the Rings series) happens annually on March 25 and is meant to celebrate Tolkien's legacy. 
Read: Fantasy-Reading, Cape-Wearing Kids Might Be Better Learners Than You Normies
The yearly event encourages fans of the author to read and share their favorite Tolkien quotes and passages, was started in 2003 by the Tolkien Society, "an educational charity, literary society, and international fan club, devoted to promoting the life and works of J.R.R. Tolkien."
Each year, Tolkien Reading Day has a theme chosen by members of the Tolkien Society. This year's theme is life, death and immortality — chosen to honor Tolkien's service in the First World War. According to the Tolkien society, "The theme was chosen for 2016 to coincide with the one-hundredth anniversary of the Battle of the Somme. Tolkien fought and survived this dreadful battle."
So celebrate this year's Tolkien day by sharing your favorite Tolkien passages, and spread the joy throughout Middle Earth.