Flight MH370 Update: Debris in Mozambique "Almost Certainly" From Missing Malaysian Plane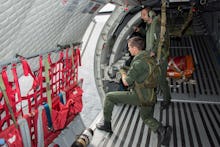 Debris recently found in Mozambique is "almost certainly" from missing Malaysia Airlines flight MH370, Australia's minister for infrastructure and transport, Darren Chester, said in an official statement on Thursday.
The case of MH370 has vexed the world ever since March 8, 2014, when it suddenly disappeared while flying from Kuala Lumpur to Beijing without a trace. The 239 passengers and crew on board are presumed dead. 
"The analysis has concluded the debris is almost certainly from MH370," Chester, whose department has been leading the charge in the search, said.
Furthermore, Malaysia's Minister of Transport released a statement noting that, "the paint and stenciling on both parts match those used by Malaysia Airlines" and "almost certainly are from MH370." 
This is the latest in what has been a piecemeal discovery process. In August 2015, part of an MH370 wing was found on an island in the Indian Ocean, and on Tuesday another piece of debris found off the coast of South Africa is also believed to belong to the missing plane.
"The search for MH370 continues," Chester said. "There are 25,000 square kilometers of the underwater search area still to be searched. We are focused on completing this task and remain hopeful the aircraft will be found."