Did the RNC Just Try to Trick Grandma Into Making a Donation?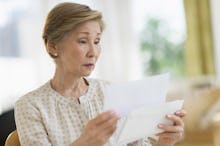 Political parties and campaigns can be annoyingly persistent when it comes to asking for donations, but they're not usually this underhanded.
On Wednesday, Kristen Burzynski shared to Facebook a notice her grandmother got in the mail from the Republican National Committee. Her grandmother, said Burzynski, has never registered as Republican or made a political contribution, so the letter might have been brushed off as junk mail had it not been for the words "NOTICE OF DELINQUENCY" printed in bold red letters on the envelope.
"She gets this 'urgent' letter in the mail, causing her to immediately panic and wonder whether her house is secure or whether she is in serious financial trouble," wrote Burzynski in the post.
The contents of the letter also levied accusations of "delinquency" — because the Republican Party had allegedly contacted Burzynski's grandmother "multiple times" without response. (The nerve of that woman!)
"We need you to come forward today and send a contribution of $25 or more to help make sure we have a fully funded Republican National Committee," continued the letter writer, who was kind enough to include the convenience of a credit card form.
Read more: 3 Charts Show How Young Donors Could Change the Political Landscape
Whether or not the letter in fact originated from RNC headquarters has not been verified (Mic reached out to RNC representatives, but no one was immediately available for comment), but the images in Burzynski's post show RNC Chairman Reince Priebus' name on the letterhead, and the committee's address and contact information on all the documents.
Burzynski's grandmother wasn't the only one who received the misleading letter — and even those registered with the party threatened to withdraw their support.
"This is unacceptable, and a clearly predatory tactic used to prey on the elderly," Burzynski wrote. "As if it even needs to be said at this point, shame on you, Republican National Committee."