Kourtney Yochum Is the 7th Trans Person Killed in the US This Year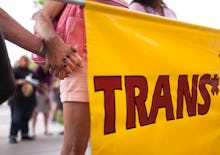 A trans woman was fatally shot Wednesday evening in Los Angeles, by a man who allegedly shot her in the head while she was walking her two dogs, reports the Los Angeles Times. The woman, who was identified as Kourtney Yochum, was pronounced dead at the scene — making her the seventh trans person to be killed in the United States this year, according to queer news website Autostraddle.
Read more: North Carolina Reminds the World After Anti-Trans Law That #WeAreNotThis
"It is mind-boggling; it happened out in the open," Anita U. Nelson, chief executive of SRO Housing Corp., a community-based nonprofit serving the homeless in Los Angeles, told the Times. "I'm heartbroken. Our residents are traumatized, our staff is traumatized. Everybody loved her. She was very popular." The man who allegedly shot Yochum was taken into custody. 
According to Autostraddle, "Yochum joins trans women of color Monica Loera, Jasmine Sierra, and Maya Young, as well as Kedarie/Kandicee Johnson, a black, genderfluid teen and Demarkis Stansberry and Kayden Clarke, two trans men, as the seventh trans person murdered this year."
According to the Anti-Violence Project, an LGBTQ advocacy group, citing information from the National Coalition of Anti-Violence Programs, trans people "experience violence at alarmingly high rates and are often targets for fatal hate violence." In 2013, 72% of the victims of hate violence homicides were trans women.
While the motives behind Yochum's death are still unclear — according to the Times, "the alleged gunman" was "possibly embroiled in a domestic dispute with the woman" — what is clear is how Yochum's apparent murder contributes to a troubling pattern of deadly violence against trans people.
After the news of Yochum's death broke Wednesday, many took to Twitter to share their fears and sadness — and some drew parallels between a national climate that seems to turn a blind eye to violence against trans people and the bill passed by North Carolina's state legislature this week that includes a mandate that public school students must use the bathroom that corresponds to the gender they were assigned at birth.