Here's How the Obama Administration Could Fight North Carolina's Anti-Transgender Law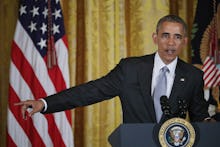 The swift passage of a North Carolina law cracking down on transgender rights came as part of a backlash to a Charlotte nondiscrimination ordinance — but the law may trigger a spectacular backlash of its own.
The Public Facilities Privacy and Security Act, signed into law Wednesday by Republican Gov. Pat McCrory, prohibits transgender people from using restrooms that correspond to their gender identities.
Read more: North Carolina Reminds the World After Anti-Trans Law That #WeAreNotThis
Like other measures proposed around the country, the North Carolina law is rooted in the debunked notion that allowing transgender individuals to use facilities that match their gender identities would make it easier for sexual predators to steal into women's restrooms and commit assault.
Opponents of the law hold out hope that the state could be forced to reverse course. And the federal government has a powerful weapon in its arsenal: The $4.5 billion in federal funding North Carolina receives under Title IX, which could be cut off in retaliation for the law's passage.
Here's why.
The challenge: In 2014, the Obama administration determined that Title IX, which bars sex discrimination in federally funded education programs, also covers gender identity. LGBT advocates say that the North Carolina law constitutes a clear violation of the state's obligations under Title IX.
"This bill offers costly supposed solutions to nonexistent problems, and it would force schools to choose between complying with federal law — plus doing the right thing for their students — and complying with a state law that violates students' civil rights," Human Rights Campaign legal director Sarah Warbelow wrote in an analysis of the legislation.
The Education Department's Office of Civil Rights and the Justice Department could soon open investigations into the state and its school districts, Chase Strangio, a staff attorney on the American Civil Liberties Union's LGBT Project, said in a phone interview Thursday.
There's precedent for such steps. 
In November, the Education Department accused a school district in Palatine, Illinois, of violating a transgender student's rights under Title IX when it prohibited her using girls' locker rooms at her school. The department imposed a 30-day ultimatum for the district to either allow the student to participate in activities and used facilities that matched her gender identity, or lose some or all of its Title IX funding.
One month later, the department settled with the school district, after the district allowed the student to shower in the girls' locker rooms and, as requested by the student, to use "private changing stations," among other steps to accommodate transgender students.
Advocates argue that a similarly bold federal approach is crucial in North Carolina.
"The federal government absolutely has to take a bold and strong position here," Strangio said, adding that a vigorous federal response, combined with the "national outcry" greeting the law, could make other states think twice before adopting similar measures.