This Waitress Got a $0 Tip on a $187 Bill — And Her Facebook Takedown Is Going Viral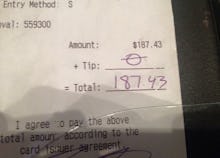 If you or someone you love has ever worked as a server, now's the time to brace yourself.
A Facebook post by a waitress who got completely stiffed on a $187 check is going viral for highlighting the plight of service industry workers who rely on gratuity to pay their bills.
Taylar Cordova, whose Facebook profile lists her as a server at P.F. Chang's China Bistro, took to social media to vent after a particularly needy table left her a fat zero on the tip line of their bill. 
"This. This is the reason I work so much. This is why I cry in the shower. I STRUGGLE to put clothes on my daughter's back and food in our bellies because of THIS," Cordova wrote. 
Her post was quickly shared over 5,000 times, and gained traction on Twitter, where users were divided over whether or not Cordova's outrage was justified.
Others were less sympathetic, like user @OSAY_it_aint_so, who claimed that choosing a job in the service industry was a tacit acceptance of the industry's low pay-grade.
In her post, Cordova urged restaurant patrons to tip their servers, regardless of the service they had received.
"A 10% tip is a big enough slap in the face, this completely tore me apart. Don't even bother walking into a restaurant if you can't afford to tip. There's a McDonald's down the street if you're that cheap," she said.
According to the job and recruiting site Glassdoor, a P.F. Chang's server's base salary is $4.86 per hour. 
Read more:  This Disgusting Anti-Gay Note Was Left on a Restaurant Receipt Instead of a Tip