This Korean Taylor Swift Look-Alike's Secret? The Perfect Makeup Transformation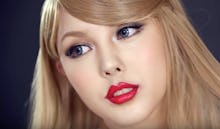 Park Hye Min, also known as PONY Makeup on YouTube, is a South Korean beauty blogger whose makeup game is almost too strong. In a video posted on Monday, Park transforms herself into 1989 singer Taylor Swift, once again proving that contouring is scary magic.
Park starts off the uncanny transformation with foundation and concealer. Then she begins to contour, which alters her face and nose shape to look more like Swift's. Park also uses light foundation to change the definition of her cupid's bow. For the little details, she adds freckles on her face and lightens her eyebrows. 
Read more: Neck Contouring Takes Instagram Beauty Trends (and Our Insecurities) One Step Too Far
As of Thursday morning, Park's video received over 500,000 views. Users were impressed with the transformation, calling her "amazing" and "talented."
Park has other makeup videos such as tutorials and another transformation in which she turns into a Sim from the life simulation video game The Sims.
h/t Mashable