iPhone SE Is the iPhone We've Been Waiting For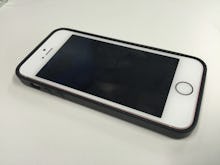 Millennials want high quality goods, but we don't want to shell out full price for them. That's why Apple's latest iPhone is worth paying attention to.
The iPhone SE, which just went on preorder, is the 5S reincarnated and reminds us why not everything is best when super-sized. Apple contends the iPhone 5S is the most popular 4-inch phone ever sold. While I couldn't find a statistic confirming that statement, data from analytics site Mixpanel shows that, as of March 20, the iPhone 5S is the second-most-used iPhone.   
The iPhone SE has a 4-inch display and comes with solid graphics, a 12 megapixel camera, the same speedy processor as the iPhone 6S, and really good battery power (I turned the phone on at around 10:30 AM Thursday morning and it was only halfway drained by 5 PM the following day after moderate use). Apple also boasts faster connections to Wi-Fi and LTE with the new SE. At $400, it's also Apple's most affordable phone to date. Most importantly, it feels like the company didn't skimp on it. 
More power: Millennials want technology that works. This is one of the reasons Apple has found so much success; its operating system is easy to navigate and pretty to look at. 
The SE features metal trim in gold, silver, space grey or rose gold, and it looks luxe. The phone comes with a fingerprint reader and connects to Apple Pay, to help push consumers to make purchases from their phone. It's a phone that's designed to accommodate consumers that are forever on the go, while also providing the quality look and feel we've come to expect from Apple.
Apple's first attempt at a low-cost phone, the iPhone 5C, fell flat on arrival. It cost $550, came in an array of plastic-coated backings and didn't have the same features that similar phones had. Namely, it lacked the new A7 processor, M7 motion processor and the fingerprint scanner that its contemporary, the iPhone 5S, carried. Gizmag described the iPhone 5C as "capable." The phone was widely decried as a flop, though as others have argued, sales indicate otherwise. Still, there was something about the phone that put reviewers off.
In general, smartphone owners are willing shell out for a good phone. A 2015 PEW study shows that 80% of smartphone owners think their devices are worth the cost. That's why it's important that device manufacturers deliver devices that are powerful, good-looking and effective. A powerful phone, even one that's small in stature, is worth a lot of people's $400. 
Return to the small size: Undoubtedly you have heard that millennials value experiences over goods. They cherish traveling, concerts and good dinners. They also love to document their exploits for their followers on Snapchat and Instagram. 
Both the iPhone 6 and 6 Plus pushed users towards a bigger category of phone, whether we liked it or not. Although I've valued the 6 Plus, a sort of micro tablet that lets me write and publish stories from tight spaces, there's no denying that it was easier to carry around the 5S. It fits in a pocket, slides into an oversized wallet or clutch. Likewise, the SE is an on-the-go device. It's easy and sleek and will no doubt find an eager audience.
Surprisingly, acclimating to a smaller screen is a welcome change. And while I've developed a signature system for taking a selfie with my iPhone 6 Plus (a precarious arrangement wherein I prop the phone up on my pinkie as I try to navigate my thumb to snap the photo), a smaller, lighter phone facilitates a much better selfie — especially for tall shots.
Entry-level devices: Products like the SE — sleek, affordable and effective — are what this post-recessionary economy desires. We want to Periscope from our iPhone SE while riding in our Tesla Model 3 with TOMS loafers on our feet. Yeah, we're just commuting to work, but we're also saving the planet, OK? 
High-value products from companies that purport to save the planet are our favorite kind to buy. A Boston Consulting Group study notes, "One way a company can connect with this new status currency is by convincing Millennials that they are "doing good" when they purchase its brands." Apple is not ignorant to the many studies devoted to understanding the millennial market. 
At iPhone SE's unveiling, the company also touted its many environmental accomplishments and introduced audiences to a robot named Liam, which deconstructs used iPhones and mines them for reusable parts. I can only assumed Apple named its robot so we could start sympathizing with the machines that will one day become our overlords, ensuring our collective Stockholm syndrome. It's also a potential move to endear us to its recycling efforts, so we know that when we buy the iPhone SE (or any Apple product), we're doing a good deed.