After Brussels, Even Young People Are Reconsidering Their Wanderlust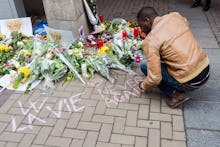 Youssef Mousa booked his trip to Brussels the first week of February. He and three friends had plans to spend two weeks exploring Europe by train, and Brussels was the first stop; they'd arrive on March 27. 
20-year-old Mousa, who is from England and studies at the University of Birmingham, said he was a little wary of traveling to Europe's major cities after November's attacks in Paris. He'd nonetheless swallowed his fears for a trip to Rome around Christmas and had enjoyed safe travels.
But that peace of mind was cut short the morning of March 22, when multiple explosions at Brussels' Zaventem airport and the Maalbeek metro station left at least 34 people dead and 300 injured. Not soon after, the Islamic State group, or ISIS, claimed responsibility for the attack. Two brothers were identified as suicide bombers responsible for the blasts.
Would he still take his vacation to the Belgian capital?
Read more: Man Who Asked Muslim Woman to "Explain" Brussels Terror Attacks Arrested
"Initially, I was still happy to travel to Brussels and hoped the situation would calm down by the time we'd arrive," Mousa said. "But one by one, our group's family advised us and pretty much prohibited us from going to Brussels, and so we had to cancel." 
Mousa and his friends had booked an Airbnb rental for their stay in Brussels and were able to cancel their reservation and receive a full reimbursement. He said the company also offered them the option to rebook in the future at a discounted rate.
On the day of the attacks, Airbnb activated its "urgent accommodations" tool, a page where those in need could find free emergency housing. 
When reached for comment, an Airbnb spokesperson said that the company's cancellation policy includes "political unrest in the destination country" as an "extenuating circumstance" under which customers can cancel their reservations and forgo any cancellation penalties. While the spokesperson said it's too soon to tell how many people will be opting out of their vacations to Brussels, or rethinking their plans to Europe entirely, a few others shared Mousa's concerns.
"It's scary because it is the same Brussels I went to last year, but it's under the attack now," said Kural Amudhan, 26. The Munich native planned to go to Brussels for Easter and, like Mousa, he'd booked an Airbnb for his stay. He too ended up canceling his reservation and received a reimbursement in full. 
"I cancelled the trip due to caution from my family members. Brussels was not the same Brussels after the Paris attacks either." 
"I cancelled the trip due to caution from my family members," Amudhan said. "Brussels was not the same Brussels after the Paris attacks either." His family had warned him of traveling to the capital city even before Tuesday's attacks.
Amudhan didn't say whether he was considering rescheduling the trip for a later time, or if he'll be traveling elsewhere for the holiday, but Mousa has found a compromise for his plans.
After quickly swapping their stop in Brussels for one in Amsterdam, Mousa and his friends finalized their two-week vacation to the Netherlands, Germany and the Czech Republic. Still, Mousa speculates that, especially in light of the United States' official travel warning for all of Europe, people will become more mindful about their travels to the continent. 
"Travel is a beautiful thing, and experiencing multiple cultures and societies is one of the best forms of education in this day and age, where every country is so easily accessible," Mousa said. "It dismays me that people will be dissuaded from traveling to Europe due to these attacks."
David Garfinkel, a 23-year-old New Yorker living in London for a fellowship, said that even though the U.S. has earned a reputation for its high rate of mass shootings, there's something even more unsettling about living in Europe during the current wave of terror attacks. Following the two attacks in Turkey earlier this month, Garfinkel canceled plans with friends to travel to Istanbul — again, partly at the request of his parents.
"Knowing Turkey's been kinda dangerous already, I had my reservations, and my parents sort of just agreed with me that they'd rather not have me go," he said. "The U.S. feels safer in avoiding ISIS, and although the shootings in the U.S. are steady, they are more constant, whereas it is unclear how things are going to escalate down the road here in Europe."
Read more: ISIS Has Trained 400 Fighters to Attack Europe, Officials Say
Garfinkel said he has plans to go to Munich's Springfest in April, and while good beer will cut the anxiety of being at a crowded event in a major European city, there's still some lingering fear.
"It's a strange feeling," he said. "It'd be nice not to have to worry about terror while traveling, but it definitely has some impact on my decisions. I just try and make the best of it."
Stephanie Yoder, who runs the blog Twenty-Something Travel, had some tips for young people traveling abroad in the wake of terrorism. In November she wrote a post entitled "Do NOT Cancel Your Travel Plans Because of Terrorism." 
"Fear tears us apart, closes us off and, in many sad cases, makes us hateful," wrote Yoder. "It makes the world seem like it's full of big and scary 'others,' when it's actually full of people just like you and me. And some bad guys sure. But the good outweighs the bad, especially when you look at it from a place of reason and not fear."
"Fear makes the world seem like it's full of big and scary 'others,' when it's actually full of people just like you and me."
She remained steadfast in her convictions after Tuesday's attacks. 
"Millions of people visit Europe every year without incident," Yoder said on Thursday. "The statistical chance of being killed by a terrorist is extremely small. Do your own research and then decide what you feel comfortable with."
As Mousa and his friends embark on a two-week adventure, they'll keep these words in mind. "To live in fear sends the message that [ISIS] is winning an unfair and reckless fight," he said. "Obviously we need to be safe, but there are methods of doing so that aren't total avoidance." 
"The UK has had issued a 'severe threat level' since 2014, a step below the maximum threat level," Mousa said. "However for most of us life does, and must, continue as normal."