Amandla Stenberg to Star in Black Lives Matter-Inspired Film, 'The Hate U Give'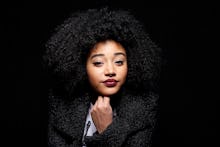 Woke Hunger Games actress Amandla Stenberg will take her woke-ness to the silver screen to star in the forthcoming Black Lives Matter-inspired film The Hate U Give, based on a young adult novel of the same name. The novel was inspired by the 2009 murder of unarmed black teenager Oscar Grant, according to the Variety.
The novel, The Hate U Give, tells the story of a 16-year-old girl who attends a suburban prep school after being raised in a neighborhood in poverty. Her conflicting worlds erupt when she witnesses a police officer shoot her unarmed friend. The film will be adapted from author Angela Thomas' debut novel named after late rapper Tupac's acronymic tattoo, "T.H.U.G."
Notorious director George Tillman Jr. is set to direct the film, according to the Hollywood Reporter, after Fox 2000, Temple Hill and State Street won the rights in a "heated bidding war." Fox 2000 and Temple Hill previously released the lucrative 2014 film The Fault in Our Stars, also an adaptation of a young adult novel.
Read more: Cornel West Gave a Ringing Endorsement of Black Lives Matter on '60 Minutes'