Stop What You're Doing and Watch This 'Orange Is the New Black' Parody of Kimmy Schmidt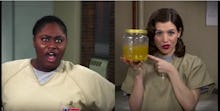 Two of Netflix's most well received original series — Orange Is the New Black and Unbreakable Kimmy Schmidt — have some commonalities. They both seamless balance clever comedy with more dramatic undertones, and both feature compelling and diverse characters. As it turns out, both casts are really good singers, too. 
The women of Litchfield prison released a video tribute to their Netflix counterpart, creating their own rendition of Titus Andromedon's signature hit, "Peeno Noir." 
Instead of "Peeno Noir" — which Titus says is an ode to black penis — the prisoners pay tribute to "Honey Jar," or prison hooch. Between the entire lead cast (sans Taylor Schilling's Piper), the group elicits some clever rhymes in the guise of the series' overarching plot.
"Honey Jar, behind bars, find the hidden cellular/panty sales take you far/Honey Jar, feeling sharp, laundry cart, broken heart, everybody plays their part/better bust out those street smarts," the cast sings. 
OITNB will return for a fourth season on the streaming service June 17, while Unbreakable Kimmy Schmidt will air its second season on April 15. In the meantime, check out the Honey Jar parody video below. 
Read more: 'Orange Is the New Black' Season 4 Set Photos Reveal Litchfield Prison's Newest Inmate