Snoop Dogg Is Going Full David Attenborough With His New Nature Show, 'Planet Snoop'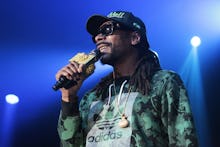 Throughout 2015, Snoop Dogg was featured in an ongoing series on Jimmy Kimmel Live called Plizzanet Earth. In two-minute segments, the Long Beach, California, legend took on the role of the gangsta David Attenborough, narrating filmed interactions between seals and penguins, otters and crocodiles, martens and squirrels.
Fans loved it so much, they started a petition that asked Snoop Dogg to narrate a season of the nature documentary Planet Earth. It collected over 65,000 signatures — and now the Dogg has decided to give the people what they want.
Read more: Snoop Dogg Will Be Launching Merry Jane, His Own Marijuana-Centric Media Company
The rapper has launched a new series called Planet Snoop on his marijuana-centric media platform Merry Jane. In it, he continues his top-notch nature reporting while smoking a blend of nature's finest natural herbs.
Much of Merry Jane's content is actually more serious than Planet Snoop. It debunks myths about marijuana usage, analyzes policy and shares new research. Yet some of it — like Planet Snoop — is pure, joyous stoner fair.
How many voices can really capture the majesty of nature in all its glory better than the silky smooth coo of Snoop Dogg? How many can deliver profound insights, like, "That squirrel belongs to a gang! That ain't Alvin, Simon or Theodore," with as much conviction the Doggfather himself? This series may give Planet Earth a run for its money when it returns for a sequel series later this year.
Behold the beauty of Planet Snoop below.