Khloé Kardashian and Lamar Odom Tried to Have a Baby Through IVF to Save Their Marriage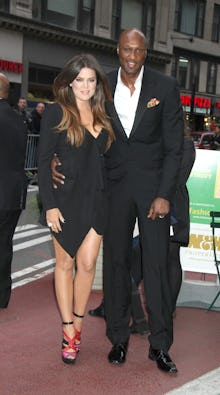 On Kocktails With Khloe, host Khloé Kardashian opened up about trying in vitro fertilization treatments at age 27 to "fix" her marriage with Lamar Odom, according to the 10th episode. "Right now in my life, I don't want to just have a baby. I still want to have like my family, but at the time I was, like, ugh, gotta have a baby," she said to her guests, which included Dita Von Teese, Missi Pyle and Terry and Heather Dubrow, according to Us Weekly. "That's all I wanted at that time." 
Kardashian later added that she's happy the IVF didn't work out because she was so young. She called the desperate attempt to save her marriage "so classic." "I thought, 'Oh my God, a baby will fix this,' which like it's not going to fix that," she said. 
Read more: Khloé Kardashian Just Boldly Spoke Out About Losing Weight in Her Vulva
Von Teese shared that she did something similar, thinking that marriage would help her struggling relationship.
After marrying in 2009, she officially filed for divorce in 2013 among rumors of cheating and drugs, but it was put on hold after trying times last year; Odom was found unconscious in a brothel in Nevada in October. In November, Kardashian said the divorce will still go through.
In the episode, Kardashian said she's now "fucking everyone, drinking my balls off and going everywhere."