11 Photos Show the Side of Cuba You May Never Be Able to See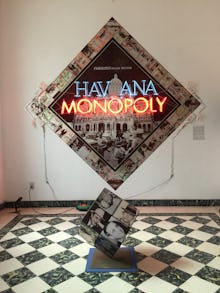 HAVANA — The winds of change swept through Havana this week as President Barack Obama made his historic visit to Cuba, the first sitting American president to go the island in over 80 years. All week long, the country buzzed with energy, with many Cubans saying they were hopeful that Obama's visit will usher in an influx of capital that will help put the country on the path toward a better economic future.
There will indeed be an influx of capital. As part of Obama's visit, top businesses and tech companies in the United States, including Marriott International, Western Union and Airbnb, announced they will be expanding their businesses in Cuba. Telecommunications companies are rapidly signing deals to improve connectivity on the island. The country is also bracing for a surge in tourism, as U.S. commercial airlines will begin offering direct flights this summer.
Not everyone is overjoyed about the change. Kadir Lopez is one of the leading painters and sculptors in Cuba, and his artwork has been featured widely in exhibitions across the island nation and around the world. Lopez has long used his art to challenge authority and make provocative statements that push Cubans to think more deeply about politics, history and their culture.
In an interview in his studio at his home in an upscale tree-lined district in Havana, Lopez reflected on what Obama's visit means for Cuba's future. While Lopez, like the vast majority of Cubans, is excited for the easing of relations with the U.S., he says he is also nervous, fearful that the country will become increasingly commercialized as it gets flooded with tourism.
He is using his art to sound the alarm to everyone who will listen. "I'm getting people to ask questions," Lopez said as he walked through his gallery. "Progress is a complex thing. I fear Cuba will become just another country from Latin America, and that's why I'm working so hard to preserve our heritage."
The lion's share of Lopez's attention in recent years has been on a project called the Havana Lights Project, in which he restores iconic neon and incandescent street signs on old theaters and buildings across Havana where they once shined brightly. The result, according to Lopez, is the perfect metaphor for Cuba's rapidly changing times — the juxtaposition of light and darkness, shedding a light on both the old and new.
The crown jewel in his collection is a piece called "Monopoly," which Lopez says he worked on for an entire year, in which each space highlights a different period in Cuba's complex socialist history, all in the name of trying to preserve the country's rich culture heritage at a time when he fears the country is on the verge of losing it.
"Everything has started moving, Lopez said. "That's why I'm doing what I'm doing. I feel there will come a point where you're only going to enjoy today's Havana in pictures, because things are moving so fast. I hate commercialization. My work is geared at preservation, at keeping Havana's rich culture."
Lopez said he's currently working on an outdoor art installation showing Havana's rich history, which he hopes to display in a public park where visitors will be able to walk through and get a feel for Old Havana before it was flooded with tourism — the side of Havana, according to Lopez, that you may not be able to see anymore.
Below is a sample of Lopez' work, which you can also find online or at the Lighthouse Estudio in downtown Havana.
1. "Havana Monopoly Presidential Palace"
2. Woolworth Las Americas
3. Molotov Cocktails
4. American Dream
5. Havana Grand Prix
6. Sheaffer's
7. Havana Lights Project, studio shot
8. Peter Pan Nueva Isla
9. "People to People," commemorating President Coolidge's visit to Cuba.
10. "Texaco Stalin"
11. Uncle Rubik