Barbie Brandy Isn't Just Cute AF — She's Also Got A Message About Beauty Diversity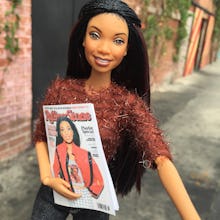 Singer Brandy Norwood, the only singer to bank a number one song on the Billboard Hot 100 inspired by The Jerry Springer Show (#themoreyouknow), got the internet all kinds of hyped last week when she posted an Instagram picture of Barbie Brandy with the appropriate caption: "Yesssssss."
It took folks a few days, but on Wednesday, Barbie Brandy finally sashayed her way to Facebook's coveted trending bar. And don't think the IRL Brandy didn't take notice. "Get it @4everbarbiebrandy! You Bettuh Muthu Effin trend on Facebook then!!!!" the singer captioned a photo sharing the news.
Read more: This Model Is Making Black Dolls With Natural Hair to Make Point About Diversity
Turns out, Brandy Barbie isn't brand new. The brainchild of photographer/digital artist Tyren Red, Barbie Brandy first landed on Instagram in October 2015, motivated by Red's love for the Grammy Award-winning singer.
"She is someone who I consider a legend in the music industry and continues to be an amazing example of success to so many, not only in the African American community, but throughout the world," Red said in an email. 
"Taking that idea and creating a Instagram account with a doll that embodies that same energy, with love and empowerment in every post, I felt was needed in a world where there's not too much genuinely good things that are talked about or covered in mainstream media; this is my way of giving back and having fun in the process."
This is far from the first doll created to directly address Barbie's diversity issue. In 2015, entrepreneur Maite Makgoba created the Barbie-like Momppy Mpoppy in an effort to give kids with darker skin a doll they could relate to. That same year, Angelica Sweeting created The Angelica Doll "for all the young girls who never felt pretty enough because of their kinks, curls, wider noses or fuller lips," Sweeting said on the doll's Kickstarter page.
Earlier this year, Mala Bryan unveiled her Malaville dolls featuring diverse skin tones as well as hair that is textured, coarse and curly. Barbie Brandy also features a variety of hair styles from bantu knots to braids, even Diana Ross-esque curls.
As the conversation surrounding diversity continues to grows — in fashion, in Hollywood, in the beauty industry — dolls like these are essential in showing young girls and boys that diversity isn't just a good thing, it's a thing that should be expected, even demanded.
"Let's make the issue of race no longer a issue of race, lets answer the big time question of 'what is beautiful' because beauty is within us all," said Red. "It's in short hair, it's in long hair, it's in kinky hair or no hair at all. I want for little girls of color to continue to see active representation of beauty idealized on all platforms even with a doll. That is Barbie Brandy's purpose."