The Newly Revealed Amazon Women From DC's 'Wonder Woman' Movie Are All White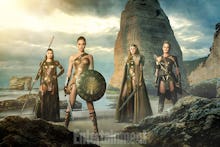 DC Comics is beating Marvel to the punch with their first woman-driven superhero picture, but the first look at Wonder Woman has many fans in despair.
Entertainment Weekly reported Thursday the first official image of the Amazons, the women who raised Wonder Woman (Gal Godot, making her debut in the new Batman v. Superman: Dawn of Justice). Despite sharing a name with the South American river and rainforest, these women (Connie Nielsen, Lisa Loven Kongsli, Robin Wright) are all white.
Read more: 6 Female Superheroes Who Deserve Movies Before We Get Another Superman Movie
This didn't sit well with fans who, while impressed by the costuming and bold staging, were dismayed by such a monochrome tableau.
Notably, there were white Amazons in previous comic and animated adaptations of the DC Comics characters, but not every member of the group was white. Additionally, it is assumed the three women included in Entertainment Weekly's first-look photo do not comprise all of Wonder Woman's Amazons.
In the movie, directed by Monster helmer Patty Jenkins, the Amazons are Wonder Woman's superhuman and immortal mother and aunts. In the superheroine's origin story set before Batman v. Superman: Dawn of Justice, the Amazons train and prepare Wonder Woman for the world around her.
Wonder Woman is set for a June 23, 2017, release. Watch early footage from the film below.