Charles Bradley Talks the "Changes" He's Gone Through Rising From Homeless to Headliner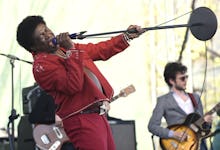 It's been years since soul luminary Charles Bradley had to bear the fear and uncertainty of homeless life on the streets. Yet every time he comes back to South by Southwest, the old wounds rise back up to the surface.
"I always say that SXSW is the one who put me on the map in the U.S." Bradley said as he sat down with Mic on the pool deck of a DoubleTree Hotel in downtown Austin, Texas. "My first big show I did it out here and everything since then. This is the home of my soul. They gave me something I've been searching for a long time."
That something was a chance.
Read more: We Asked 7 SXSW Artists to Design Inspirational Posters to Represent Their Music
Before becoming one of the most compelling voices in soul, a fairly recent development — he earned his break at 62 years old — Bradley essentially lived homeless, drifting between odd jobs, playing small gigs as a James Brown impersonator. Those helped him hone his hip swivel and shrieking ad-libs before Gabriel Roth, co-founder of Daptone Records, heard them and offered him a shot. A breathtaking reception at 2011's SXSW sealed the deal.
Even after wrapping on another successful series of shows at the Austin festival and finishing his third album, Changes, released for first listen on NPR Tuesday, Bradley hasn't forgotten those sleepless nights and constant hustle. Song is still his release and the pain is still palpable in his voice. Yet his lens is growing. On the new album Bradley sings to troubles far beyond his own, those facing people of all creeds and colors at home and abroad. Facing so much more heartbreak, Bradley's medicine still offers a liberating sense of relief.
Bradley's lead single off the new album, a cover of Black Sabbath's "Changes," offers the perfect introduction to the jukes Bradley makes on the new album. 
On the surface, the song aims to capture the indescribable pain of a lost lover, but hearing Bradley wail, "I've been going through changes ... It hurts so bad!" it feels like he's speaking to deeper wounds than Ozzy Osbourne ever imagined. It's housed on the same album that opens on another cover, "God Bless America" which unironically faces the hate that has been central in this country's story. Bradley's funk remixes years-old sounds to offer encouragement at a time when Americans are facing a pretty severe lack of good news.
"I never thought in my whole life I would see the way the presidential election is going on today, where they fighting," Bradley said, talking about the motivations driving his new album. "Before it was just voting, who you picked, there wasn't all that violence. Look on TV now, you see nothing but violence, and these are supposed to be presidents! Something's wrong. And the police forces, sometimes they're going crazy. I ain't saying everybody's perfect, but if you carrying your cross, wear it right."
Few have shouldered their crosses with more grace than Bradley. He's faced physical violence from racist employers, family members murdering one another and seemingly endless spirals of poverty. It's the stuff of pulp fiction. However, unlike the antiheroes of those tales, faced with of so much violence and defeat, Bradley never lashed back.
"Maybe that's why it took so long for me to get my chance at life, because I never stepped on nobody," Bradley said. "I always kept my own past clear, so one day someone could look at my past and see it and say, 'Wow. Give him a chance.'"
Before SXSW and the debut of his documentary Charles Bradley: The Soul of America, which gave his story the platform it deserves. that first chance came in Europe. Audiences took to him immediately, he explains. In this, one can draw connection to the career of another iconic black artist: Miles Davis. Davis once suggested in his autobiography that Europe embraced jazz and black music in a way that white Americans, still uncomfortable facing black excellence, couldn't.
Bradley sees some truth in this estimation.
"They're looking from the outside looking in," Bradley said. "And they see the truth and that's why they gave me an opportunity. When they saw my documentary and they heard my story they stopped and said 'Woah, why they did this to this guy? Why is his own country doing this to him?'"
Bradley still feels a strong connection to his country, however, and he sees it as his responsibility to continue finding ways to help open up those who are still struggling to find their break.
"Some of them be going through some of the changes that I've been going through and they always say 'Charles Bradley, how did you do it? I thank you for this,'" he said. "A lot of them done gave up. And those that gave up, when they talk to me, it hurts. I ask God, 'Please, let them open up one more time.' And I try to give them encouragement to open up push it away, don't let that burden weigh you down the rest of your life."
It's the mission Bradley will be on the rest of his life. This year, at 67 years old, he's got 147 shows already booked. Like James Brown, he plans to go out having left it all onstage.
"It's the greatest feeling you give to the world — knowing that you're giving all the creation inside you that God give you," he said. "Something my mom said, 'If this is my last lick, let me do it in your kingdom.' That's what I plan to do."