Did Jennifer Lopez Shade Mariah Carey? J Lo Responds After Fake Brussels Tweet Circulates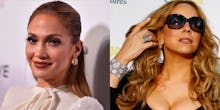 Fans of Jennifer Lopez and Mariah Carey were shocked by an outrageous viral tweet appearing to be written by Lopez, taking aim at the fellow entertainer with a tasteless joke about the Brussels terror attacks. Lopez quickly alerted fans the tweet was actually a fake and photoshopped message spread by someone else, but it was too late before the diva duo's infamous beef was brought back into the spotlight. 
The photoshop job in question came after Carey tweeted out a supportive message to the city of Brussels, revealing she's still considering performing there despite Tuesday's attack. "ISIS only target places where there are lots of people so I think your concert will be okay," J Lo's fake tweet read on Thursday. "Good luck hitting those notes!"
Lopez wasn't having it though and quickly dismissed the tweet as a fraud. 
"Someone copied my acct & wrote something nasty about another artist," Lopez responded, shutting down all talk of possibly reignited beef between her and Carey. "I would never lower myself like that #fake #smallminded #noclass #notme." 
The war between two divas goes back far beyond a decade, all the way to 2001. Lopez released "I'm Real" at the time, a song which was later remixed by Ja Rule, becoming one of J Lo's most critical hits to date. The song ended a sample from Yellow Magic Orchestra, a Japanese band who's beat Carey was already using for the song "Loverboy." 
And who can forget the polarization amongst their fans:
Carey kicked up the ante after Lopez rose in prominence, jabbing her in a series of interviews which spurred her infamous subtle shade of a response to whether she's a J Lo fan: "I don't know her."
"She's forgetful I guess. We've met many times. I don't know her that well," Lopez has since told talk show host Wendy Williams about Carey saying she "doesn't know her."
So, even though it appears the two women have no problem throwing endless shade for years to come, there doesn't seem to be any new beef between the two singers.