Hate Noise? Need Directions? Chatty Maps Is Your New Best Friend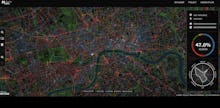 Next time you need a quiet corner of the city for your proverbial coffee and paper, hit up Chatty Maps.  
The brainchild of Goodcitylife.org, a collective of "researchers and practitioners" that tackles the lesser known problems of city-living, Chatty Maps has charted out the noisiness of many major cities — among them New York, London, Boston, Madrid and Barcelona — by color-coding the streets to correspond with different sounds.
Read more: The Bizarre Thing Baffling Amazon Users About This Toy Fighter Jet
In a paper published Wednesday, the study authors said they were motivated by how noise levels impact the way cities are built.
"City planning is concerned mainly with noise, simply because annoying sounds come to the attention of city officials in the form of complaints, whereas general urban sounds do not come to the attention as they cannot be easily captured at city scale," the abstract reads.
But the project found a way of capturing urban sounds to scale with a novel methodology. Of the six categories — transport (red), nature (green), human (blue), music (yellow) and building/mechanical (gray) — the authors used social media to find them. They used Flickr and assessed 1.8 million geo-referenced images with sound-related tags. 
The results are intricate, sprawling webs of cities, charted to the very last alleyway. Because there's nothing at all shady about seeking out the city's quietest alleyway.