Police Reportedly Foiled a Terrorist Attack During a Raid in a Paris Suburb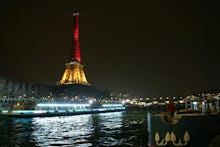 French police have foiled a terrorist attack in an "advanced stage" in northwest Paris, according to the country's interior minister, ABC News and others reported.
"At this stage there are no links between plan foiled in France today and the attacks in Paris or Brussels," ABC News tweeted, citing the French interior minister.
Authorities reportedly raided the Parisian suburb of Argenteuil, arresting one French citizen. The near-miss follows recent news that the Islamic State had trained 400 fighters to commit acts of terror throughout Europe. 
This is a developing story and will be updated as information becomes available.