Combatant Gentlemen Is Using Science to Help You Find the Perfectly-Fitted Suit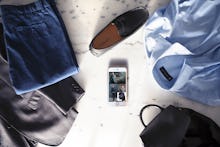 Sure, you may not wear a suit every day, but there's a good chance you'll need a knock-em-dead suit at some point in your life. It's one of those things that doesn't seem essential until it's too late. 
As anyone who's ever shopped for a suit can tell you, it's no cakewalk. There's finding a store with a decent selection, picking a fabric, crossing your fingers they have your size. Once you finally submit yourself to the song-and-dance of trying it on, more often than not you'll have to pay a premium to get a cut that's more Harry Styles than Uncle Harold.
Read more: Where Are Men Getting Their Clothing Advice? From the Women Wearing It
Enter: Combatant Gentlemen, a start-up clothing company established in March 2012. Vishaal Melwani, the brand's CEO, co-founder and creative director, was just leaving college as the recession was peaking. He watched his friends jump into fields, like finance and law, that require a certain uniform. But starting salaries for these jobs didn't allow for a brand new, tailored wardrobe. 
"We were born from the recession and Combat Gent was made for millennial men," he said over the phone. "We saw a need for high-quality-but-approachable menswear and created something relevant, something with a Hugo Boss and Zegna feel but with an H&M price tag."
Coming from a background in Italian tailoring (Melwani's parents were the first-ever franchisees of designer Gianni Versace), Melwani knew the value of quality fabrics, but also the ensuing costs of manufacturing a suit for bigger brands like Brooks Brothers and Tom Ford. Combining his fascination with technology with a commitment to quality fabrics (without the markup), Melwani started Combatant Gentlemen to turn the traditional suit shopping experience on its head.
It starts by cracking the "suit fit" code. A traditional suit fitting goes like this: You stare at the ceiling, hoping your brain can will time to speed up as a tailor gets too close for comfort, measuring every inch of you. Meanwhile, Combatant Gentlemen's "Fit Tech" gets you a suggested size in just a couple of clicks, using an algorithm that determines your BMI and expertly marries your bod to one of their suits. 
"Our team broke down our data and analyzed customer sales to design a smart BMI index that correlates body types to our fits and measurements," Melwani explained. "You plug in details like your height and weight along with the type of fit you're looking for and the system generates a 95% accurate fit."
Putting the suit in the palm of your hand. Working for a year, Combatant Gentlemen's team developed an app on March 24. An app might not seem like a natural step for a suit line, but Combatant Gentlemen is no ordinary label. "I like to say we're 'tech first, fashion second,'" Melwani said. "We have more people in our engineering department than we do in fashion or merchandising. All our development is done in-house and we have full-fledged iOS engineers that designed our app from the ground-up." 
By now you're probably familiar with retail sites remembering your shopping and browsing history, but Combatant Gentlemen's app goes a step further, with its Netflix-inspired algorithm. "We use [business intelligence] to calculate data and gather insight into what our customers want and enjoy, what they're talking about and ultimately purchasing," Melwani explained.
And finally, lowering the price. Combatant Gentlemen vertically-integrated their clothing production (meaning they control every element of the manufacturing process). By selling directly to their customers, and cutting out the markups associated with selling wholesale to retailers, Combatant Gentlemen can offer suits on its website starting at about $140, hundreds less than a contemporary off-the-rack suit.
Combatant Gentlemen has created a shopping environment that fits a customer's needs as well as their suit fits their shoulders. Of course there's the Fit Tech element, but also suggested outfits based on your location, your complexion and your upcoming events. It's the best kind of technology: one that makes your life easier.
There's a refreshing spark of ingenuity in everything Vishaal Melwani does. With a series of "pop-in" Combatant Gentlemen events in Nordstrom locations, and a program that gives discounts to student shoppers, it's clear that he's not done bringing innovation to his own product. 
"The idea that men don't like to shop is funny to me," he said. "I don't think it's that men don't like to shop. The guys that come to us do have ideas of what they like. They may be new to the suiting and tailoring process, but still like to see variations of what other guys are wearing and what the latest norms are. Our algorithm adds to that process."