These Photos Tell the Story of What's Happening in Cuba in a Way Words Can't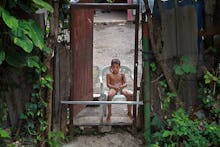 Boston Globe/Getty Images
Poverty and alienation may be what come to mind when you think of Cuba. 
There's a lot we don't understand about the Caribbean country.
All eyes were on Cuba last week when President Barack Obama visited the country in an effort to reconcile and eventually end the embargo. 
But it shouldn't take a visit from the president of the United States for the world to pay attention to Cuba. 
There's so much to appreciate about the vibrant country that is often missing from mainstream conversations. 
The people.
The history.
And the culture, which will change with the influx of tourists and the growth of new industries.
Some people are nostalgic already. Like artist Kadir Lopez from Havana, who is preserving old Cuba by restoring iconic neon and incandescent street signs on old buildings throughout the city.
Others are excited about the chance to grow and build a relationship with the United States.
But for now, let's celebrate the beauty of a country that was closed off from the U.S. since 1961.