Subscription Boxes Are the Best Shopping Invention — or a Sneaky Way to Lose All Our Money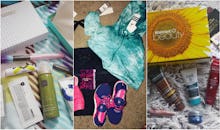 By now, most of us have heard of subscription boxes, even if we haven't tried them ourselves. We can now get monthly mailings containing any products our hearts desire, from makeup to snacks to wine. Even our pets can get their very own subscriptions.
It's easy to see the appeal: You get great products each month, without the inconvenience of real-life shopping or having to purchase a full-size version of an item you've never tried before.
Birchbox started it all in 2010 with its boxes of beauty samples; within five years, it had one million subscribers and over $70 million in funding. Incarnations from other brands soon followed; it's been estimated that there are currently more than 2,000 subscription box services. Then there are similar services like JustFab that rely on subscriptions, but allow users to select their monthly items (rather than receive a surprise box).
These subscriptions come at a wide range of price points, from under $10 to over $100 monthly, and offer seemingly everything that traditional brick-and-mortar stores do, from lingerie (Adore Me) to shoes (JustFab) to workout gear (Fabletics). Traditional companies like Sephora, Adidas and even Wal-Mart are getting into the subscription box game.
It's also a way to discover new products. The concept is a boon for small businesses, which can partner with subscription services to get their products to a wide range of people. 
Some, like Stitch Fix, allow you to return unwanted items, while ones like Birchbox and Ipsy do not. JustFab and Fabletics, part of the JustFab family, offer curated "boutiques" that can be previewed each month, and offers the option to "skip" a month if you don't like the items.
Either way, lots of customers love the model, especially the element of surprise.
"I've just always loved getting packages in the mail. It's almost like you've sent yourself a gift every month," Liz Cadman, 31, the founder of subscription box blog and directory My Subscription Addiction, said. Other subscription box users concurred, with one young woman saying in an interview, "Getting a box full of surprises is like Christmas."
There's also appeal to monthly arrivals in that you don't need to think about them at all — which also just happens to be what makes subscription boxes a great scheme for companies. It's super easy to forget about your subscription, so you get boxes you don't use and never end up canceling, while the company makes money for all those months you were subscribed. 
As marketing professor Larry Chiagouris of Pace University's Lubin School of Business told the Washington Post, "By the time people realize they don't want [a service] anymore, it takes time for them to cancel it," adding "the real money is in the inertia."
That's just one reason the subscription model has come under fire recently, with some customers alleging that the offers are misleading — it is only in the fine print that a free trial leads to a monthly subscription, for example — and that it is difficult to cancel subscriptions.
Kate Hudson's athleisure line Fabletics and its parent company JustFab were the subject of a BuzzFeed investigation that called the company's history "scammy." JustFab has settled at least three different lawsuits in two states, and it earned over 1,400 Better Business Bureau complaints in a three-year period — enough that Better Business Bureau revoked its accreditation. There's even an independent Facebook page, Just Fab Complaints, for customers to log horror stories and gripes.
Other subscription services have faced similar complaints. Adore Me, for one, has an F rating with the Better Business Bureau, with customers alleging that the confusing model is designed to charge them as much as possible and make it nearly impossible to opt out.
In response to such complaints, some companies have reviewed their practices or tried to be clearer about their model, but say it's ultimately the customer's responsibility to do their homework. According to a representative of Julep's beauty box, called the Maven box:
With new subscription companies popping up every day, I think it's important for consumers to remember to do their research. When I sign up for a subscription, I try to figure out what it would actually be like to cancel. Does someone answer the phone when you call or answer your email when you write in? Pretend you're canceling before you sign up — that's the best way to understand what the company is about!
But the scammy fine print and poor customer service haven't deterred everyone. According to analysis by Hitwise, visits to subscription box sites have increased nearly 3,000% in the past three years. An Adore Me representative said in an email the company's revenue grew from $1.1 million in 2012 to $42.9 million in 2015, and Cadman said the average My Subscription Addiction reader — of which there are 150,000 — has seven subscriptions and 12 more on her "wish list."
That growth, of course, might be the boom in a boom-bust cycle. In January, Birchbox laid off 15% of its staff and ceased operations in Canada; the Washington Post noted that "Adidas appears to be straining so hard to make this model work."
But when it works — when customers find it easy to cancel, when the products are either low-risk or able to be returned, when the overall monthly cost is a bang for your buck  — it really works.
"One of the big things for me is value, and I know that's true for a lot of my readers as well," said Cadman. "It's almost like there's a bit of a risk to it, obviously when you're getting a surprise box. But if all the items are a good fit for you, then you've just got an amazing deal."
Correction: Mar. 28, 2016