All Hail Gloria Steinem, Who Proved Feminists Can Kill It in Miniskirts and Leather Pants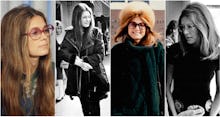 "The miniskirted pinup girl of the intelligentsia."
That's the description reportedly used by a Washington Post columnist to describe Gloria Steinem back in the day. Reductive? Yes, incredibly so. But there was a kernel of truth in it, too: Steinem, an activist, writer and trailblazer for modern-day feminism, is also really stylish.
Steinem, who turns 82 (!) today, has always been subject to the gaze of critics, many of whom have fixated on her good looks. "She was so glamorized by the male world and treated for her exterior more than her interior," her friend Robin Morgan told the New York Times. 
Like so many other women, Steinem's beauty and style have been a double-edged sword, earning her attention and praise but also the judgment of men who would dismiss her. 
"There is the notion that an attractive woman, whatever that means in society, a pretty girl can't be smart," Steinem told Teen Vogue in 2011. "We are still identified by our looks instead of our hearts or heads."
But Steinem has spent her life turning that assumption on its head. Since the 1960s, with her long, bouffant hair, through the 1970s, when she sported her iconic aviator glasses, up through today, when she's still rocking leather pants and perfectly painted nails, Steinem has proven that style and substance are not mutually exclusive.
All hail Gloria, still a feminist fashion icon at 82.