The NBA Just Took a Stand Against North Carolina's Transphobic Legislation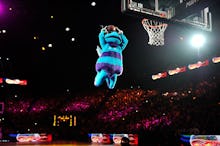 On Wednesday, North Carolina Gov. Pat McCrory signed House Bill 2, legislation making it illegal for people to use bathrooms that don't coincide with their sex assigned at birth. 
While the legislation is concerning for transgender and gender nonconforming people statewide, the NBA, which is set to descend upon Charlotte in February 2017 for its annual All-Star Weekend, shot back at the discriminatory law on Thursday, expressing in a statement concern for the NBA's transgender fans.
Read More: North Carolina's Anti-Trans Legislation Just Got Some Much Needed Context
Wednesday's bill not only established a new law, but overturned existing legislation in Charlotte banning the discrimination of LGBT people, according to CNN. The NBA's statement said the organization isn't sure what effect the law will have on the All-Star Game, but made it clear that the NBA doesn't condone discrimination.
The NBA's statement could hold some real weight as cities regularly trip over themselves for an All-Star Weekend bid, which has historically brought lots of revenue to the host city. 
"The NBA is dedicated to creating an inclusive environment for all who attend our games and events," the statement read. "We are deeply concerned that this discriminatory law runs counter to our guiding principles of equality and mutual respect."