Michelle Obama Delivered a Powerful Address to Argentina's Girls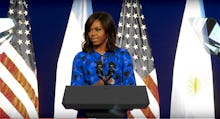 When she's not dancing the tango with her husband, first lady Michelle Obama also finds time to stand up for women's rights.
That was the message of a powerful speech she delivered Wednesday to a group a women and girls in Buenos Aires. During the address, Obama talked about her own experience facing sexism, misogyny and catcalling. 
"As I got older, I found that men would whistle at me as I walked down the street, as if my body were their property, as if I were an object to be commented on instead of a full human being with thoughts and feelings of my own," Obama said. "I began to realize that the hopes I had for myself were in conflict with the messages I was receiving from people around me."
Despite the self-doubt instilled by such messages, the ultimate answer, she said, was to listen to the voice inside herself.
"Eventually, I just got tired of always worrying about what everyone else thought of me. So I decided not to listen to the voices of those who doubted or dismissed me," Obama said. "Instead I decided to listen to my own voice and to rely on the support of the people in my life who believed in my ability to achieve my own dreams." 
The speech was part of her Let Girls Learn initiative that seeks to promote education for women around the world. Obama's speech was preceded by that of Argentina's own first lady, Juliana Awada.
Watch the speeches here: