Bernie Sanders Says Victory Means More Than Beating Hillary Clinton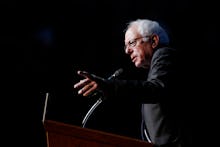 Facing long odds of overcoming Hillary Clinton's significant delegate lead, Bernie Sanders is a long way from the heady days following his landslide win in New Hampshire, when there was talk of burning down Clinton's firewall in Nevada and South Carolina — setting the former secretary of state up for a repeat of her 2008 loss.
Clinton's uneven but undeniable comeback has Democrats thinking ahead to a post-Sanders world, and while he vows to remain in the race through the final nominating contests in June, he's already articulating what he'd like to hear from Clinton, should she emerge as the Democratic standard-bearer.
Read more: Hillary Clinton May Be Beating Bernie Sanders, But Democrats Want the Race to Go On
"If I can't make it — and we're going to try as hard as we can until the last vote is cast — we want to completely revitalize the Democratic Party and make it a party of the people rather than one of large campaign contributors," Sanders told the Young Turks host Cenk Uygur.
Sanders said he wants to see Clinton throw her support behind a "Medicare-for-all" single-payer health care system, a federal minimum wage of $15 per hour, new infrastructure spending, a "vigorous effort" to tackle climate change, tuition-free public college, ending corporate tax loopholes and imposing new regulations on Wall Street.
Still, Sanders told Uygur he's not merely running a protest campaign, and that he's mounting a campaign focused on securing the Democratic nomination and the presidency.
But should he come up short in that effort, the 74-year-old Vermont senator doesn't sound like a man vying for a role as national spokesman of the American left.
"I'm not big into being a leader," Sanders said. "I'd much prefer to see a lot of grassroots activism."
Watch Sanders' full interview with Uygur below. The comments on Clinton come around 17:30: