These Powerful Photos Capture the Outrage Over Ghomeshi Verdict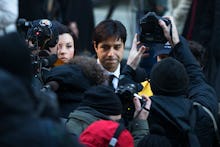 Todd Korol/Getty Images
Canadian radio personality Jian Ghomeshi was acquitted of four accusations of sexual assault and one of choking in a Toronto court Friday.
The trial was the first of two sexual assault trials Ghomeshi is facing after three former female employees accused him of sexual abuse and harassment between 2002 and 2003.
Many are outraged at the verdict. Protestors gathered outside the Old City Hall court in Toronto court Friday.
"Stop victim blaming #WeBelieveSurvivors," "rape is rape" and "Ghomeshi is not an isolated incident" were among the most prevalent messages on protestor's signs.
Marchers gathered outside before marching through the streets.
"We must fight against the stereotype that all sexual assault complaints are truthful," judge William Horkins said in a scathing verdict in which he accused one of the victims of conspiring to "sink" Ghomeshi.
Horkins said the accusers wanted to "sink the prick" because "he's a fucking piece of shit," Vice reporter Hilary Beaumont  tweeted live from the courtroom.
But the protestors are calling it victim blaming.
The statistics speak wonders. 
For every 100 rapes, two rapists will spend a single day in prison, according to the Rape, Abuse and Incest National Network (RAINN). 
"This case is highlighting what we've always known [to be] imperfections of our justice system," Cynamin M. told Chatelaine outside the courtroom Friday.
"It allowed us to keep [sexual assault] in the media, and highlight the flaws all survivors endure on a daily basis. ... We know it's not easy to break the silence. But we believe you."
Some protestors were arrested, according to Toronto reporter Alfred Colangelo's tweet.
"A not guilty verdict = violence didn't happen" one protestor's sign read.