The Obama Administration Takes a Big Step to Help Students Swindled by For-Profit Colleges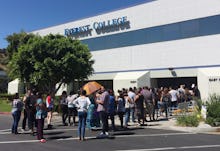 In 2015, Corinthian Colleges, formerly one of the largest for-profit operators of colleges in the United States, went bankrupt after a series of federal and state investigations found the company to be making use of a host of deceptive practices against its students. The federal government is still picking up the pieces from its collapse.
On Friday the U.S. Department of Education announced that students who were defrauded at 91 former Corinthian campuses across the country "have a clear path to loan forgiveness under evidence uncovered by the Department while working with multiple state attorneys general," according to a statement from the department.
Students who took classes at Corinthian schools under its Everest and WyoTech brands in more than 20 states are eligible to apply for debt relief through an online form. The Education Department is making efforts to reach out to students to notify them of the relief measure through postal mail, email, partner organizations and by other means.
Read more: 7 Ways Student Debt Can Ruin Your Life 
The announcement marks the largest group of borrowers to be offered debt relief since the Education Department began to sort through evidence last year to determine which Corinthian students deserve to have their loans forgiven. Last summer, a similar online form was announced and sent out to students who attended 12 Corinthian schools under the Heald College brand. 
In total, more than 8,800 former Corinthian students have been approved for loan discharges so far, totaling more than $130 million, according to the Education Department.
But some advocates for Corinthian student debt relief think this is all too little, too late. They say that even including the new relief measures, there are thousands of defrauded students who are still not eligible for the relief from loans.
Laura Hanna, co-founder of the Debt Collective, a group that helped organize a debt strike among former Corinthian students last year, said the latest debt discharge still leaves much to be desired.
"The majority of debtors we've been organizing with since November 2014 will not receive relief from this announcement," she said in an email. "And of those who qualify, plenty of people will never receive relief because they won't know to apply for it. This is a serious issue for all those who are low income, don't have access to computers or may not catch a news item about said possible relief."
Hanna and other advocates for more substantive debt relief think that given the widespread evidence of exploitative practices at Corinthian schools — and the kind of disrepute associated with a degree from one of them — an automatic class-wide discharge for all borrowers is both most appropriate and most efficient.
For the moment, it appears the debt relief process will remain slow and prone to allowing some defrauded students to slip through the cracks entirely.