Alleged Ted Cruz Sex Scandal Had the Internet's Cruz Detractors Buzzing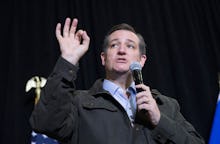 Republican presidential candidate Ted Cruz is battling an entanglement of rumors that allege the Texas senator is "hiding five different mistresses," according to the tabloid the National Enquirer. According to its source, identified as a "Washington insider," "private detectives are digging into at least five affairs Ted Cruz supposedly had," and "the leaked details are an attempt to destroy what's left of his White House campaign." The supposed affairs are detailed in the Enquirer's most recent print issue.
Though unconfirmed, the rumor sparked chatter across social media Friday with the hashtag #CruzSexScandal. People on Twitter were skeptical at best, scathing at worst. 
Read more: Donald Trump Just Took His Wife Feud With Ted Cruz to a Horrifying New Low
Many flooded Twitter with jokes, because sometimes only memes can help to make sense of supposed spilt tea. Some users posted pictures of Clorox bleach to metaphorically erase the mental image from their minds. Wrote one user, "That moment when you realize Ted's getting more action [than] you!"
Healthy skepticism and quips aside, the supposed scandal does not come at an ideal time for Cruz, who is the GOP's No. 1 challenger to frontrunner Donald Trump in the polls. The drama also comes amid a tasteless back and forth between the two, which made both candidates' wives a target for their appearances. Specifically, a meme of a side-by-side photos of Heidi Cruz and Melania Trump circulated the web. 
Shots have been fired, and if past is prologue, this mess can only get uglier. One thing is certain: Twitter is prepped for a field day.