#PrayForNigeria Highlights Massive Double Standard in Media Response to Nigeria Attacks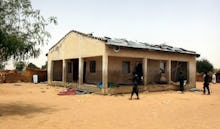 A wave of terrorist attacks in Nigeria over the past month and a half is sparking anger across social media this week. The problem? More than 160 people have died at the hands of terrorists since late January — and the media coverage has been sorely lacking, Twitter users say.
The first of these attacks took place in the northeastern village of Dalori on Jan. 30: According to Al Jazeera, Boko Haram fighters raided the small town, firebombed homes and fired gunshots at residents. By the following day, emergency responders had uncovered 86 dead bodies, many of them children.
The second took place at the Dikwa refugee camp, also in Nigeria's northeastern region. On Feb. 8, a trio of young women entered the camp under the guise of seeking refuge from Boko Haram. Two of them detonated bombs they'd been concealing in their clothes the next morning, killing 58 people, the New York Times reported.
The most recent attack happened on March 16, when two more female suicide bombers detonated explosives at a mosque in the northeastern city of Maiduguri, according to Al Jazeera. Twenty-two worshippers died. Maiduguri is known for being the birthplace of Boko Haram, which the U.S. military has dubbed "the most violent armed group in the world."
The disparity in media coverage of these attacks has been especially apparent this week. On Tuesday morning, a series of bombings killed at least 34 people and injured more than 230 others in the capital city of Brussels, Belgium, sparking similar degrees of 24-hour news cycle focus as recent attacks in Paris and the United States.
But adjacent to the Brussels attacks were at least three others that went comparatively unnoticed: Two in Turkey — one in Ankara on March 13 and another in Istanbul on Saturday — claimed a combined 41 lives, while on March 14, an al-Qaida-led attack on the beach town of Grand-Bassam killed 22 in Côte d'Ivoire.
News coverage of attacks in western Europe and North America are defined by a similar pattern: a relentless focus on the ensuing manhunt for perpetrators, the response from locals and the globe coming together in mourning and speculation from pundits as to the broader implications, especially around strategic elements of the global war on terror.
Yet as many have pointed out, similar treatment is rarely afforded such violence in Africa and the Middle East. In a lengthy Facebook post after the attack on Ankara, local resident James Taylor took this apparent double standard to task. "Is it because you think that Turkey is a predominantly Muslim country, like Syria, like Iraq, like countries that are in a state of civil war, so therefore it must be the same and because you don't care about those ones, then why should you care about Turkey?" he wrote.
"You were Charlie, you were Paris," he added, referring to the outpouring of global support that followed terror attacks in Paris. "Will you be Ankara?"
Now Twitter users are asking similar questions about Nigeria. According to the Pew Research Center, the populous West African nation was about 48.8% Muslim in 2010, with the majority clustered in the northern part of the country. Many terrorist attacks there have killed people simply trying to pray in mosques. 
Meanwhile, the war between the government and Boko Haram insurgents has claimed approximately 20,000 lives since 2009, displacing 2.3 million people and forcing up to 1 million children out of school, Al Jazeera reported.
Correction: March 26, 2016