2 New Yorkers Killed in Brussels Attacks Identified as Sascha and Alexander Pinczowski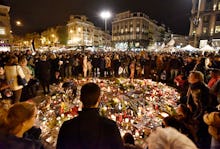 Two New York City-based siblings were killed in the terror attacks that left at least 34 dead in Brussels on Tuesday, multiple reports confirmed on Friday. They have been identified as sister and brother Sascha and Alexander Pinczowski. The siblings were returning home to New York City after visiting family in the Netherlands, CBS News reported, when they were killed during the bombings, which targeted both a metro station and the Brussels airport. NBC News reported they had just arrived at the airport when the explosions went off.
"Sascha and Alexander Pinczowski were reportedly on the phone with their mother when she heard an explosion and the phone call disconnected," according to CBS News.
The Pinczowski siblings were Dutch citizens living in New York City. 
"We received confirmation this morning from Belgian Authorities and the Dutch Embassy of the positive identification of the remains of Alexander and Sascha," a statement released to CBS News on Friday on behalf of their family said. "We are grateful to have closure on this tragic situation, and are thankful for the thoughts and prayers from all. The family is in the process of making arrangements."
Sascha and Alexander Pinczowski had been reported missing in the days following Tuesday's attacks, but it wasn't until Friday that their deaths were confirmed. The Islamic State group, also known as ISIS, claimed responsibility for the deadly attacks.
An American couple, Justin and Stephanie Shults, are still reportedly missing after the attacks, NBC News reported. On Friday, a U.S. official speaking to reporters confirmed that two Americans were among those killed in Tuesday's terror attacks. It is not yet clear who the official was referring to.