JK Rowling Posts Rejection Letters to Inspire New Authors to Never Give Up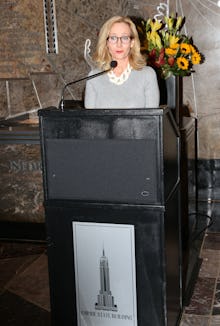 Fulfilling a fan's request, J.K. Rowling tweeted an image Friday of two past rejection letters. The letters were sent to her pen name "Robert Galbraith" for her post-Harry Potter book The Cuckoo's Calling, according to the Guardian. 
"For inspiration, not revenge," she tweeted, adding later that she displayed her first rejection letter on her kitchen wall. "I wasn't going to give up until every single publisher turned me down, but I often feared that would happen," she tweeted when someone asked what kept her motivated. 
Read more: J.K. Rowling Just Said She Loves a Black Hermione: "White Skin Was Never Specified"
The first rejection letter from Constable & Robinson told Rowling it "could not publish it [your book] with commercial success." It later recommended for her to double check a bookstore to find out the names of the current publishers and editors of the fiction genre. "Again a helpful bookshop may be able to advise you," it said. The publisher also didn't provide any "constructive criticism," but added that "a writers' group/writing course may help with the latter."
The second letter, from Creme de la Crime, was more succinct and said, "I'm sorry to disappoint you. Thank you again for thinking of us."
Fans wanted to see the Harry Potter rejection letters but Rowling said they were in a box in her attic. 
Apparently, the same publisher that turned down Harry Potter also made the same mistake twice by turning down The Cuckoo's Calling via a "rudest rejection (by email)!"