Republican Congressman Says He Might Back Hillary Clinton Over Donald Trump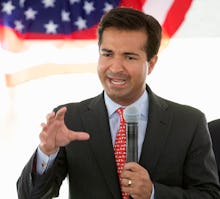 Even before she formally launched her second White House bid in April, Hillary Clinton was raking in endorsements from prominent national Democrats, locking down the support of a party establishment that was bitterly divided in 2008.
Now, Clinton may win support from a decidedly unexpected source: a sitting Republican congressman.
Read more: Bernie Sanders Say Victory Means More Than Beating Hillary Clinton
In an interview with Miami's CBS affiliate WFOR, first-term Rep. Carlos Curbelo addressed rumors that he's been telling local Democrats he could back Clinton in the general election should Donald Trump emerge as the GOP standard-bearer.
"I think both Donald Trump and Mrs. Clinton are flawed candidates, if you look at the polls the majority of Americans have negative views on both of them," Curbelo said. "So I am going to wait and see what happens on our side, but I have already said I will not support Mr. Trump. That is not a political decision, that is a moral decision."
Curbelo — who's broken with conservative orthodoxy on same-sex marriage and immigration reform but is a steadfast opponent of abortion rights and the Obama administration's detente with Cuba — said he wouldn't "necessarily" vote for Clinton, and that he was open to backing a third-party candidate.
Still, his openness to voting for the former secretary of state marks a notable first.
Writing in February that he would never support Trump's candidacy, Sen. Ben Sasse of Nebraska, the most vocal leader of the #NeverTrump movement in Congress, hastened to add that there was also no circumstance under which he's back Clinton.
Curbelo's remarks come nearly two weeks after Kim Romano, a Key West, Florida, woman and self-identified Clinton supporter, posted on Facebook that Curbelo had told her he'd pull the lever for the Democrats in a Clinton-Trump election.
Curbelo had supported Florida Sen. Marco Rubio for president until he suspended his presidential campaign on March 15, following his loss to Trump in the Florida primary.
Watch Curbelo explain his thinking on 2016 below: