SBTRKT's 'Save Yourself' Is What You Need If You're Sick of "Racism" and "Xenophobia"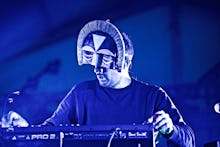 On Friday, the tribal mask-wearing, self-taught electronic artist SBTRKT, née Aaron Jerome, surprised everyone with a new, free downloadable project titled Save Yourself. The eight-track album features vocals from fellow electronic producer Sampha, R&B hit-maker The-Dream and sing-song rapper D.R.A.M. The project is a follow-up to 2014's Wonder Where We Land, which had landed itself a spot at No. 84 on the Billboard 200. 
With the deep, synth-heavy beats came a personal statement explaining the release. 
"The title Save Yourself and the visuals reflect my personal mood on what's happening in the world and society on a macro and micro level," Jerome wrote. "Whether that be racism, xenophobia, the environment or irresponsible greedy politicians. All this while thinking about how incredible it will be when humans actually reach and settle on another planet. As an artist, it feels strange to me to create simply happy music without being affected by current world affairs."
He added that the release also aims to break the suffocating "traditional label cycles," which seek to only to produce art for profit. 
Read more: Grimes, Run the Jewels, Alabama Shakes Donate Original Art to Support Independent Radio
Having worked on the project from last summer until this past week, Save Yourself is "not an album," Jerome clarified. To create the record, Jerome approached collaborators to fulfill ideas he already had in mind, rather than arrange open sessions. 
On his website, Jerome goes into depth to explain the meaning and production behind each song. "I was, and never am, looking for making obvious pop songs in a session," he wrote about "Good Morning." "Everything comes from an abstract place — these songs are so much more than that to me, both in their feeling and direction," he added.
Before the project's total release, Jerome debuted "Good Morning" on Zane Lower's Beats 1 show and "I Feel Your Pain" on Annie Mac's BBC Radio 1 program, according to Consequence of Sound. 
Check out the track list and Youtube playlist for Save Yourself below:
1. "Gemini"