Patricia Arquette on Lack of Film Diversity: "People Are Smacking Into This Glass Ceiling"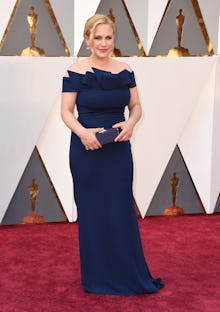 Movies about and by women do well at the box office, but as of yet that doesn't mean women are getting any more chances to produce those movies.
Academy Award winner Patricia Arquette went in on Hollywood's lack of inclusion Wednesday at a panel of young women filmmakers for the Tribeca Film Festival. As moderator, Arquette added to a train of public thought that actress Viola Davis made explicit in her Emmy acceptance speech last year: Diversity in Hollywood is all about opportunity.
Read more: Patricia Arquette's Empowering Oscars Speech Deserves a Standing Ovation
"When women are not given the opportunity to do something, you can't judge the value of what they contributed," Arquette said, according to the Guardian. "You can't say that their time hasn't come or that they are not prepared for that."
Arquette noted that a message of "You can do anything" to young girls feels hollow when out of the top 250 films in a year, only 7% were directed by a woman.
"That's not an acceptable number — 7% of directors," she said. "As a film lover, I feel that film suffers ... if we don't have diversity. Men of color are not having enough opportunities. Women of color certainly are not having enough opportunities. And, obviously, women in general aren't having enough opportunities and I think we are suffering for it."
When women don't have opportunities, either behind the camera or in front of it, they don't get the chance to show what they can do. So saying they're not as qualified as their male counterparts doesn't wash for Arquette.
"That's always the convenient argument that people have made throughout times on how to oppress other people — that their value is less, that they don't have a story to tell, that they don't have the skills, that they aren't smart enough," she said. "I think that's not a valid argument at all."
h/t the Guardian